Get Wise to a Weiss Deception
Wise-up to a Weiss deception  and these deceptions are not by any means  restricted to Weiss Vintage Costume Jewelry either. The company, who manufactured on Rhode Island, also manufactured counterfeit Eisenburg and Lisner costume jewelry. Weiss  closed it doors in 1971.
Fake costume jewelry has been flooding the market over the past few years. The increase in the number of Vintage Costume Jewelry Questions we have been receiving asking about fake designer costume jewelry and how to identify costume jewelry from fake costume jewelry bears this fact out.
Many collectors start out with vintage costume jewelry because it's usually more affordable jewelry to collect, but what many collectors new to costume jewelry do not know is that there is a  flood of fake Vintage Jewelry in the market.
Now, there's nothing sinister in purchasing a counterfeit costume jewel if you're aware that it's counterfeit costume jewelry you're buying before the transaction takes place.  It's just a bitter pill to swallow, to see advertised authentic vintage costume jewelry, (signed of course!) when it's, in fact, a  counterfeit vintage deception.
Why manufacturers don't leave their jewelry unsigned or sign their own name is a mystery. Without proper disclosure they are doing a disservice to the industry, and run the risk of turning the magnificent Costume Jewelry landscape into a banana republic, in the process.
Sell Your Costume Jewelry on the Jewelry Exchange
How To Spot A Weiss Deception
Weiss did produce a great deal of unsigned pieces and from the late 1960's until 1971 and when Weiss closed, the company produced some exceptional jewelry with finely textured backs.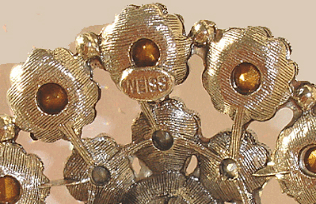 Counterfeit Weiss Costume Jewelry
It most likely won't come as any big surprise to hear that sellers on eBay are advertising genuine Vintage designer costume jewelry that's fake designer costume jewelry, and it's not restricted to Weiss.  On Antique Jewelry Investor Help Central, we are also getting flooded with questions about the amount of Schiaparelli fakes on the market.
The result is that it's getting more difficult for honest dealers to sell authentic vintage costume jewelry.  Many of the good folks who buy from eBay simply do not know the difference between fake costume and a genuine piece of vintage costume jewelry.
How to Identify Costume Jewelry and spot a deception:
Never judge a book by its cover. Examine the back closely. It may be pretty enough and look legitimate from the front but if you closely examine the back, the construction looks cheaply made. It  looks exactly like it is - cheap jewelry.
Check the texture of the finish. Genuine vintage jewelry has an attractive, smooth rhodium plated back.
A  deception will have more of a contemporary looking finish, maybe an antique finish, or oxidized look that will look more than a bit iffy, it looks plain cheesy.
There's a world of difference however in the quality, texture, and overall finish of Weiss post 60's piece of costume jewelry and the textured fake finishes of a Weiss deception.
The area of Vintage Costume jewelry is littered with fakes. Help out vintage costume jewelry collectors from getting ripped off in the future. If you have been the victim of a vintage costume jewelry deception please let us know about it.

---
Have You Seen the Jewel-of-the-Month Yet?
Return to the top of A Weiss Deception
Return from A Weiss Deception to Identifying Costume Jewelry
Return from A Weiss Deception to Antique Jewelry Investor Home Page