Are these genuine Mikimoto pearls?
by Victoria
(Norfolk, England)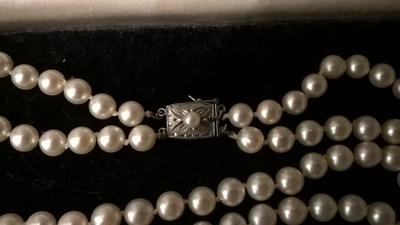 I have been inherited a double string of pearls from my Mum always thought to be Mikimoto pearls. They are 6-7mm size, length 53cm from clasp end to end, 26cm when around the neck, with a silver clasp.


My Mum got them in the early 1960's as a gift, from the Peiping lace Store in Kuala Lumpur as is shown on the box, which states Genuine Mikimoto pearls. (of course I recognise it could just say that for effect!!) My parents lived in Malaysia at that time.
I would like some idea of whether they are genuine Mikimoto or something else and a rough value if possible! All thoughts welcome. Whatever happens they will remain with me as sentimental value is greater than any sales price.
Thank you.
Click here to read or post comments