Etruscan revival gold double tassel necklace
by Mel
(Australia)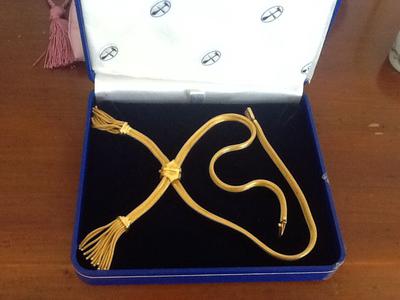 I have just inherited what I think is an etruscan revival gold necklace. It is unmarked but tests as gold. It has an etruscan slide ( granulated design ) with two tassels. It probably dates from the gran tour era ( provenance suggests). Gold tests as 22 and weight is 45 grams approx. It has a slide clasp with a pin release. It is difficult to capture the granulation with an ipad app but my cursory investigation suggests etruscan design. I'd love to hear anyone else's view as I am a complete novice.


P.s. I called the slide a 'slide' but it doesn't move.
Kind regards
Mel
Join in and write your own page! It's easy to do. How? Simply click here to return to General Estate Jewelry Question?.