Is my cameo Angle-skin, her age, origin etc.
by Sheree Thomas
(San Antonio, Texas USA)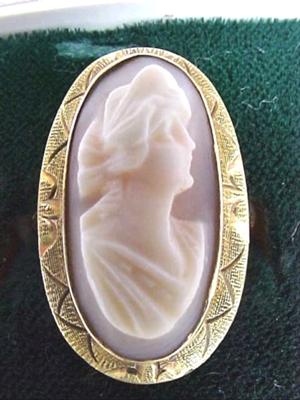 I have an old cameo ring that is marked 10K. My first question is, when did they start stamping rings? I thought from what research I had tried to do already, that the "style" of the cameo dated to the late 1800's but I don't know if that could be, due to my ignorance as to the stamping.
Also, if I could find out perhaps when it might be from and if it is what they call angelskin? Or do you think it was carved of coral or onyx, etc. and then of course lastly the worth if possible.
I appreciate any help and education if you will.
Have a wonderful day,
Sheree'