Age and Est. Value of Cameo Formerly Belonging to Kaye Stevens for Insurance Coverage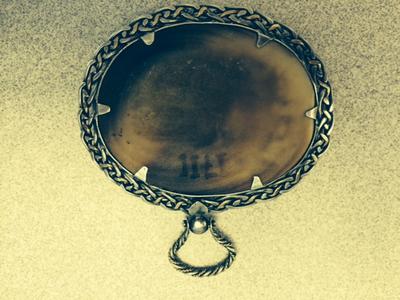 I recently purchased this Cameo at an Estate Auction of the late entertainer Kaye Stevens. My wife fell in love with this piece.


I have no idea of its value but judging from how many bidders there were for the piece and the price I paid, it may be of higher value or not.
I would like to insure the piece depending on the value. A history back ground would be excellent also. Add all this to the fact that it belonged to Kaye Stevens and it makes a great piece of cameo to have.
Thank You for your help.
Randy
The Auction listing was:
RARE 19TH C. OVERSIZED CARVED ANTLER CAMEO,
DEPICTING THE KIDNAPING OF EUROPA, 20TH C. STERLING GOLD ACCENTED PENDANT BEZEL, 2 3/4" X 2 1/4" EXCLUDING BAIL
Click here to read or post comments