Pearl Necklace Started Age 4 Years Old
by Julie A
(Myrtle Beach, SC)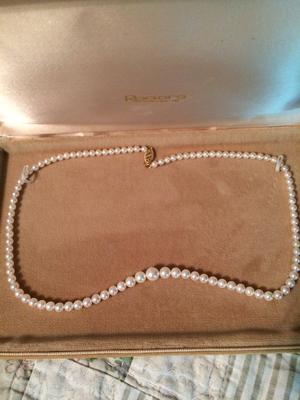 This is the whole strand
Hello,


I have a pearl necklace that my Grandmother started for me when I was 4 years old (1970) and completed when I graduated high school in 1985. I was wondering if I should have it appraised. I was also wondering if it is worth a lot should I have insurance on it?
Thank You,
Julie
60 years ago my grandmother gave me an add-a-pearl necklace made of small, oriental pearls.
by Barbara
(Florida)
Where can I find these pearls to buy to add to the three necklaces I made from my original necklace to give to three granddaughters?
BGribbeATcomcastCOM.net
Click here to read or post comments
Add-A-Pearl Necklace
by Mary
(Naples)
I have an add-a-pearl necklace that was my Grandmother's. It is in the original box which is in good condition and has 2 extra pearls on the original cards- in all I think there are 29-30 pearls. there is also a handwritten note by her, showing what they were paid for in the 1920s. I am wanting to sell it.. because I have to.. but, I cannot find any good information about what this would be valued at.

I need to know a range so that I know where to start. Can you tell me a range or point me to a site that deals with these antiques?
Click here to read or post comments