Antique Wedding Rings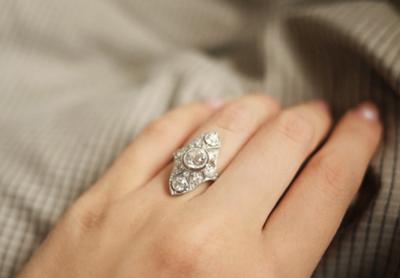 We don't need Tolkien to tell us today, how powerful rings can be. 
Antique Wedding Rings and Antique Engagement Rings, are charged with deep personal meaning. They convey a thrilling significance for people who wish to express their hope for the future, with a traditional wedding ring from the past.
The ring so worn, as you behold,
So thin, so pale, is yet of gold:
The passion such it was to prove;
Worn with life's cares, love yet was love.
His Mother's Wedding Ring. 
George Crabbe (1754 - 1832)
A large part of the Antique Jewels Value, lies in the unique journey its travelled over time and space.
Read About the Sexuality of Antique Wedding Rings...
Read About The History of Wedding Rings....
Antique Jewelry dealers with their fingers "on the pulse" understand that carefully chosen Antique Jewelry is a good investment.
The popularity and the value of Antique Jewelry is climbing as more women  start to question the brand new jewelry manufacturers they once patronized. Antique Wedding and Engagement Rings do not cost the earth. Antique Jewelry and 20th Century Jewelry are eco-friendly alternatives. 
Antique Wedding Rings, along with Natural Pearls has reverence for mother nature. Antique Jewelry is one physical gold investment you can Wear and Trust! This Jewelry  Roars strength and quality and is an expression of your heritage. 
How To Choose A Wedding Ring ANTIQUE?
Engagement Rings & Antique Wedding Rings
Some of the most unique antique engagement rings share a common feature - the color "White". This is because " Platinum" - which is a white metal, although discovered back in the 16th century, was not used  in jewelry until the early 1900s and from that date, continued to grow in  popularity.  
Platinum engagement rings can be seen on the wedding ring fingers of the rich and famous and nobility, including certain members of the British Royal Family, such as, The Duchess Camilla. See The Duchess of Cornwall's antique platinum diamond engagement ring HERE...
Around 1915, 18k white gold wedding bands were introduced as a perfect imitation of the more expensive platinum metal.
Antique finger rings often conveyed special, hidden meanings.. Take the Promise Ring, whose meaning of this ring is confused with the Keeper ring
Colored gemstone betrothal rings are suitable for women who prefer colored gemstones over colorless diamonds, like Mark Zuckerberg's wife, who wears a simple ruby engagement ring.
Princess Diana chose a blue sapphire engagement ring... 

Kate Middleton married on the 29th April 2011, to Prince William, Lady Diana's eldest son, wears the engagement ring today on her wedding ring finger.
Vintage 20th century engagement rings are worn by celebrities, and grace the wedding ring finger of many modern-day celebrities including Madonna, Kate Hudson, Reese Witherspoon and Catherine Zeta-Jones, to name just a few.
Whether your wedding is in Australia or India, unique antique wedding rings and also handmade wedding jewelry are within easy reach, thanks to the internet.
Moissanite Diamond engagement rings are a less expensive alternative than genuine diamonds, for those people, who aren't hung-up on "diamonds are a girl's best friend" classic diamond ring. Faultily faultless, icily regular, Moi diamonds, have the same chemical properties as diamonds; the only difference is that Moi diamonds are created in a lab and are a whole lot cheaper.
Some couples in love, prefer the old-world glamour of the Edwardian style wedding rings set with antique diamonds. This is the style the Passengers on the Titanic would have worn, when they boarded that fateful ship in the Edwardian era.
Quality jewels like 18th Century, "paste" rock crystal, and marcasite. One of the most popular decorative styles to invest in is Jewelry from the Georgian era.
And no need to be 'getting married' to start your personal love affair with jewelry. Start learning about how to invest money in jewelry today...
Antique wedding and engagement rings are not hallmarked 'only-for-the-bride'.
Have You Seen the Jewel of the Month?
Return to the top of Antique Wedding Rings
Return to Antique Jewelry Investor Home Page