What's the Antique Jewelry Value?
Online Jewelry Appraisals
 $29.99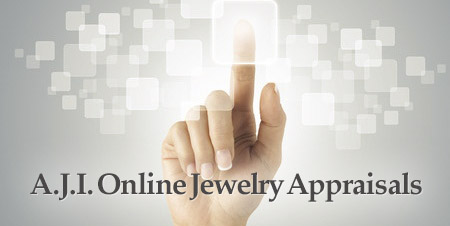 The Antique Jewelry Value question is by far the most popular question we get asked on Antique Jewelry Investor.  "How much is my Jewelry worth?
So we got to thinking it was about time to offer our guests a down-to-earth, no-fuss, online Jewelry Appraisal service that includes  current valuation with two distinct advantages:  
1.       We Only appraise Jewelry. We are considered to be a world authority on Antique Jewelry,  Estate Jewelry,  Cameo and Pearl Jewelry. 
2       Every online appraisal is carried out under  supervision ensuring you get the best possible valuation for your Jewelry.
Outside the scope of an online Jewelry appraisal?  Jewelry consultations with Yvonne Eyre  -  Click Here for Details.
We recommended that Jewelry set with precious gemstones, such as diamonds, emeralds, rubies & sapphires, be tested first.  You can now test gemstones and metals at home thanks to advances in technology.   Signed and unsigned Jewelry is suitable for appraisal purposes.    
The price for a Jewelry valuation is  $29.99 US.    Your completed valuation will be sent to your inbox within approximately 48 hours.
  It  takes less than 10 minutes to fill out the form.    Ready to get started? 
Privacy Policy: We hate SPAM and promise to keep your email address safe.

Reminder:
If you have any problems filling out this form please Contact Valuation Support Services

In case you need to resend anything: Click here to e-mail your pics 


Photo Guidelines:
One close-up image of any jewelry marks, (if there are marks).
The second image of a larger area surrounding the mark.
The third image of the entire piece.
Return to the top of Antique Jewelry Value
Return to Antique Jewelry Investor Home Page