Invest in Art Nouveau Jewelry
The Quiver of Life!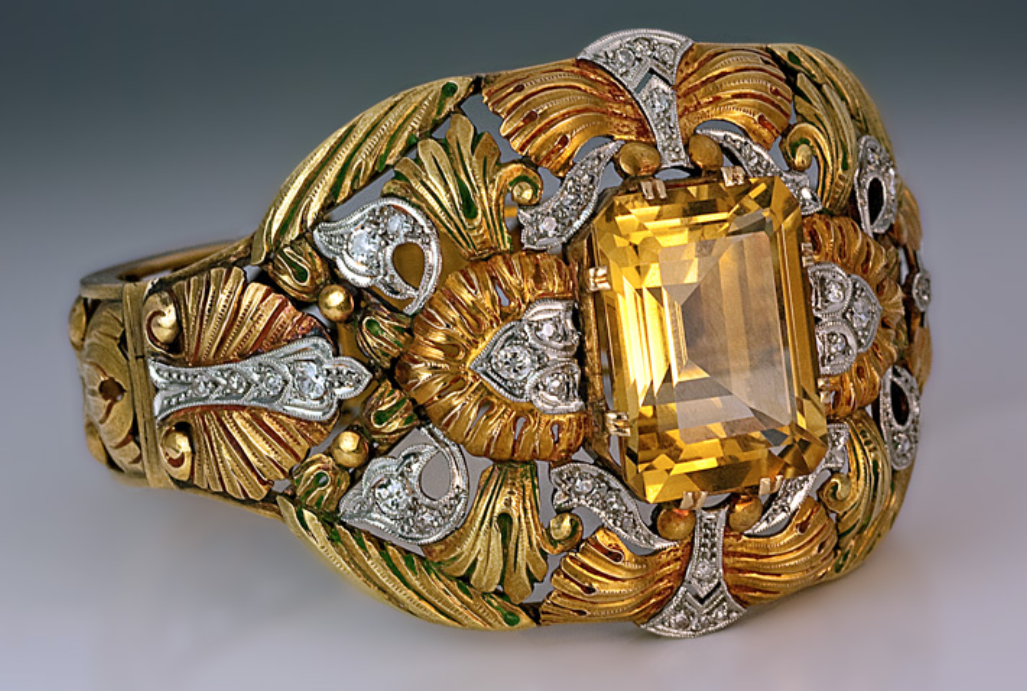 Art Nouveau Gold Bracelet
Before you invest in Art Nouveau Jewelry, the following Art Nouveau success tips will help you determine if the Jewelry is an authentic nouveau period piece or a reproduction.
Rushed for time? No need to sow hurry and reap indigestion! Go directly to Art Nouveau Success Tips Here...
Before you set out to furnish the Antique jewelry retailer's cash register, find out about the Antique jewelry buying basics first.
If you feel your market intelligence in Art Nouveau ultra-feminine jewelry is in...well,  short supply, additional Art Nouveau buying success tips can be found at Art Nouveau Jewelry 101. (Don't forget to bookmark!)
What is Art Nouveau Jewelry Anyway?
Art Nouveau Jewelry was produced between 1895 -1910 when jewelry of the late 19th century was ripe for change.
When you invest in Art Nouveau jewelry, the over-riding feature is  movement and sensuality. Nature, Movement and Art Nouveau are Synonymous.
Jewelry lovers of this type of jewelry, desiring to invest themselves in Jewelry from the Art Nouveau era will do well to consider the impact of botany on the jewelry of the period.
A botanical fervor was in the air during thid era and the taste for naturalistic jewelry flourished. Plants had what was called, "le frisson de la vie", the quiver of life!
Lalique, the famous Art Nouveau jewelry designer, would surround himself with flowers to serve as inspiration when he worked.
In France, earlier in the century, during the Georgian period, Empress Josephine kept an enviable garden and was "passionate about her plants and uncontrollable over her jewels." (Becker, ibid)
Many flowers were first introduced to Europe during this century, such as the tiger lily, wisteria, chrysanthemum, certain types of roses and of course, the bleeding heart.
This deep pink plump and sensuous plant, used by Lucien Gaillard was brought back from China in 1846. It became the most popular decorative motif of the 1860s.
The large iris was also beloved by the Art Nouveau jewelers. The beautiful fuchsia, with its spectacular effusion of hanging color, was a Victorian motif adopted by Art Nouveau jewelers.
Japanese Influence
When you invest in Art Nouveau Jewelry, you may notice that French Art Nouveau jewelry ironically, shows the greatest influence of Japanese art.
The Japanese art design that developed in the 1860s was called 'Japanisme' and simplicity was the man feature. Just one carefully observed detail of a leaf, a flower, or a bird, were the key elements of the Art Nouveau design. Japanese workmen were imported to workshops in Paris and New York to share their skills.
Art Nouveau Motifs
Whether you collect Art Nouveau or invest in Art Nouveau Jewelry be on the lookout for the following motifs:
Insects: the dragonfly and butterfly were the most popular. Other insects were the grasshopper, depicted with stylized angular antennae, Japanese in character and used beautifully by Lalique and Gaillard.
Reptiles: the serpent wound its way into the Art Nouveau period, Lalique again was master among the Art Nouveau designers in creating jewels entwined with writhing serpents.
Birds: the preening peacock and the stately swan drift dreamily through the jewels of the Art Nouveau.
Landscapes and Seasons: motifs include plants and miniature landscapes. Water was a feature and little ripples in a lake, sprawling roots, grass and sky would be added in subtly changing colors of enamels or an opal mosaic.
The Female: as a reaction against a dominant male society, the female face and body dominated Art Nouveau.
In the late 1880s and 1890s, the use of a woman's face or form in jewelry was considered distasteful, it was thought to be wrong for a woman to be ornamented with another woman's face or body.
The Female Figure Reigned Supreme
By 1900 tastes had changed. The cult of the female figure reigned supreme.
The face of woman depicted unashamedly sensual, framed by recklessly untamed hair, is the quintessential symbol of Art Nouveau jewelry. It the prize and a great favorite motif of Art Nouveau passionistas who are drawn to invest in Art Nouveau Jewelry.
The shifting colors of opal gems were appealing to the Art Nouveau jewelers, they were alive and were evocative of the female beauty.
Loie Fuller, (1862 - 1928) an American dancer, became the living emblem of the Art Nouveau movement. Fuller continues to be an influence on contemporary choreographers today.
Art Nouveau Investor Tips

When you invest in Art Nouveau Jewelry tread with caution, as there are many fake Art Nouveau pieces in the market. A high return on investment resulted in many reproductions being produced. Some of the Art Nouveau fakes are so similar to the genuine pieces that even experts can't tell the difference.

I was offered, what looked to be an authentic piece of Nouveau Jewelry, from a well- dressed dealer and was informed the piece was French. However, upon close examination, alarm bells sounded when I noticed the 14k gold mark. French Art Nouveau will always be 18k gold jewelry. Also it should be marked with an Eagle's head.

If you're offered an American Art Nouveau piece, this rule, however, does not apply, original pieces may have 10k, 14k or 18k gold jewelry markings.

When you collect or invest in Art Nouveau Jewelry, pay careful attention to the quality of the sculpturing, it's of the utmost importance. The sculpturing should be expressive and finely detailed.

Art Nouveau Jewelers had a unique way of being able to shade and blend enamel, which is impossible to duplicate today. Have in mind that enameled Art Nouveau jewelry is fragile and can be easily damaged.

One of the most frequently used methods of enameling Art Nouveau jewelry was by the plique-a-jour method (which is covered in more detail further down the page).

Two of the most popular forms of enameling were:
1. Cloisonne, in which the enamel fills little metals pockets
2. Plique-a-jour, which gives the effect of a stained glass window.

Plique- a-jour enameling was only used for show pieces for display rather than normal wear. Although fragile, it was ideal for semi-transparent effects like butterfly wings, but this type of enameling was hardly ever used for brooches or anything pinned to fabrics as the translucency would be lost.

The dragonfly and the butterfly were favorite motifs amongst Art Nouveau jewelers who enjoyed the challenge presented in the wings.

Authentic, fine quality At Nouveau Jewelry should have the same fine finish on both the front and the reverse.

The edges of the goldwork on the reverse should be rounded with a slightly irregular surface.

If the metal is unusually highly polished, before you invest in Art Nouveau jewelry, tread with caution, this could indicate that you are looking at a reproduction.

Diamonds were incorporated often as surrounds or "edgings" in Art Nouveau Jewelry.

The History of Jewelry tells us, that Glass, Moonstones, and Chalcedony were popular gems during the Art Nouveau era.

Gemstones might be chosen more for their meaning and for desirability as a motif, not for their expensiveness.


Read up on the fascinating sensuality of Antique Jewelry that doesn't cost the earth...

Return to the top of Invest in Art Nouveau Jewelry
Return to Antique Jewelry Investor Home Page