The Antique Jewelry Buying Basics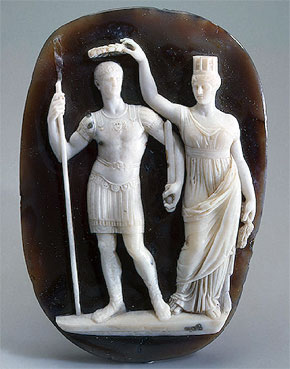 Constantine Antique cameo
 Antique Jewelry Buying Basics covers the most important questions you should ask about the item you are considering buying before you invest money in Antique, Estate Jewelry and Pearls.  Created for visitors, who don't have time to read through bloated books on the subject, but simply want to know how to invest money in  Jewelry.
You might not make the wisest decisions at the start. In a few years, you might trade up, your style might change, but while this is all happening, you are gaining knowledge first hand, and teaching yourself, with the help of this website, how to bargain and barter and listen to your instincts about the most trustworthy dealers.  And like myself, you will make your fair share of mistakes and happily discover your fair share of rare finds. You will also discover which styles, categories and time periods to which you are most drawn. 
A  proportion of  Antique Jewelry that's been handed down will be comprised  of gold metal. So, for those interested, the Three Basic Ways of Buying Gold would be worth a read.   
Oh, one little piece of advice I'd like to hand on to you,  learned from years experience, is that before investing any money in Antique and Estate Jewelry and Pearls, work out before Jewelry investing, the right questions to ask the dealer. The less obvious reason is that the questions you ask will  indicate to the dealer your level of knowledge of the subject.
The following buying basic questions will get you behind the eight ball before you set out to furnish the antique jewelry dealers cash register either instore or online:
Is it Authentic?
If you're new at antique jewelry collecting, I recommend purchasing from a retailer with a strong history of integrity, experience, and taste, to help minimize your chances of purchasing a lemon.
Is it in its Original Condition?
The condition  is an important cosnideration before invest in antique,  estate Jewelry and also pearls. It will be fairly unlikely, as antique means over 100 years old that the piece under consideration will look 'as new'. Antique Jewelry will usually show some signs of wear or repair and these small details are something to look out for, with an eagle's eyes.  If the jewelry looks  perfect, it could be a reproduction of an antique style. On the positive side, it can also mean, it's been very well stored and looked after. 
Apply your Antique Jewelry buying basics and examine the piece carefully, paying special attention to the condition, yep,  with a Jeweler's loupe. This is the fun part and it's not hard once you get the knack.  Discover how easy it is to use a jewelers loupe here.
Although you will not expect the piece to be in the same condition as brand spanking new jewelry,  is the condition of the jewelry sound enough to buy? It is an investment and should, therefore, be investment-worthy.  Can you notice any obvious signs of a jewelry repair? Carefully examine the back of the jewelry. Some repairs are very good and have actually saved the life of the piece while bad repair jobs should be reconsidered.
So how do you know if the piece under consideration has been repaired?  The Jewelry loupe again. Seams, solder joins which appear as a different color metal to the main material are giveaways. Discover what else the Jewelry loupe can tell you.
If you do detect a repair,  keep in mind, the repair should have been completed with quality consistent with the original work. Closely examine every millimeter, including connections and clasps.
If the jewelry is gem-set, check for replacement stones and  modern cut stones standing in for a  lost or removed antique diamond cut, for example.  If your investment is to include pearl Jewelry, you will need to know, at the minimum, the difference between a Cultured Pearl and Natural Pearl.
Is it a synthetic pearl?
Synthetic or faux pearls, which are pearls aping genuine pearls harvested from the sea, have been around for centuries. Find out about the world's premier faux pearls called Majorica Pearls.
On the subject of Natural Pearls, have you seen the monster Giant Dubai Natural Pearl?
No matter what the seller may tell you, the only way to positively determine if a Pearl is a Natural Pearl is by X-Ray.
Is the Jewelry Hallmarked?
Information and archives on gold hallmarks can be found here.
If you're examining French Art Deco jewelry, check for French Hallmarks -"poincon de garantie". Generally, (unless removed) all French Art Deco should have a French hallmark. Platinum pieces produced in France after 1912 feature a wolf's head. Beginning in 1838, gold pieces feature an eagle's head, and for silver, a boar's head. Some pieces also have house marks (e.g. "Cartier Paris") and a maker's marks such as a stamp from the factory.
You will find these very small marks, often on the clasps, along the edge of a bracelet or on the stick of a pin. Expert Information on Hallmarks on British gold, silver and platinum jewelry is provided on Antique Jewelry Investor. Often the marks have worn away with age, so you probably will need a Jewelers Loupe to see these marks.
When purchasing a Jewelers Loupe, a black housing compartment that prevents reflection and with 10 X magnification is preferable. Remember, the dealer can tell a lot about their customer by the way they handle a Jeweler's Loupe.
Provenance
Does the Jewelry Have a History of Ownership? Provenance is often a good guide to authenticity. Never be shy to ask if the seller knows who owned the jewelry previously.
Original Box
 Jewelry in the original box can significantly impact the value of the Jewelry. Especially if the Jewelry box is itself in good condition. This indicates the jewelry has been respected and well-stored  and can significantly increase the value.
Is the Jewelry a Good Example of the Period?
 There is a lot of mediocre Antique Jewelry in circulation and museum quality Antique Jewelry,  Estate Jewelry and Pearls often exchange hands privately.
Disregard All of the Above!
Do you find it beautiful? Would you love to own or wear it? Then apply the variables.
Antique Jewelry buying basics will help you decide on the right choice, but remember when you invest in Antique Jewelry, it's your journey and your Antique Jewelry. You ultimately decide on the quantity and Antique Jewelry Value of things. 


Return to the top of Antique Jewelry Buying Basics in Antique Jewelry
Return to Antique Jewelry Investor Home Page