Hallmarking in Great Britain
By Steve Collins FGA DGA

Hallmarking in Great Britain started around 700 years ago when a group of nineteen goldsmiths bought a property in Foster Lane, in the heart of the City of London. It was for The Worshipful Company of Goldsmiths who had just received their first royal charter.
Checking of precious metal items began in the UK with the Wardens of this Company going from shop to shop testing the gold and silver wares of goldsmiths located in the area surrounding their property. By 1478, because there were so many goldsmiths, makers were commanded to bring their goods to the "Goldsmiths' Hall" to be tested instead, hence the term 'hallmarking' – struck with the mark of the hall.
Hallmarking in Great Britain continued to expand with assay offices opening right across Great Britain bringing with it the ability to levy taxes, by order of the Crown, with the introduction of duty marks in 1784. The taxing of precious metal ceased in 1890 but hallmarking continued, becoming one of the oldest forms of consumer protection as well as being a legal requirement.
Hallmarking in Great Britain Maintains 5 Component Marks
The oldest UK assay office and one of only four remaining offices, Assay Office London still have its headquarters at Goldsmiths' Hall on the same site as the original 14th- century property.
Hallmarking in Great Britain is comprised of five-component marks, three of which are compulsory. The traditional fineness mark and the date letter are no longer legally required but in London, it is the standard practice still to apply all five. It maintains the tradition and also provides the ability to make a hallmark determination easier by dating an item by its date letter.
The sponsor's mark is the mark of the person or company who submitted the article for hallmarking. This mark comprises the initials of the registered party surrounded by their chosen shield design. Each sponsor's mark is unique.

The Assay Office Mark indicates the assay office that hallmarked the item. The leopard's head signifies London, the anchor for Birmingham, the rose for Sheffield and the castle for Edinburgh.

The millesimal fineness mark signifies the precious metal content in parts per thousand. The different precious metals are distinguished by a different shaped outline: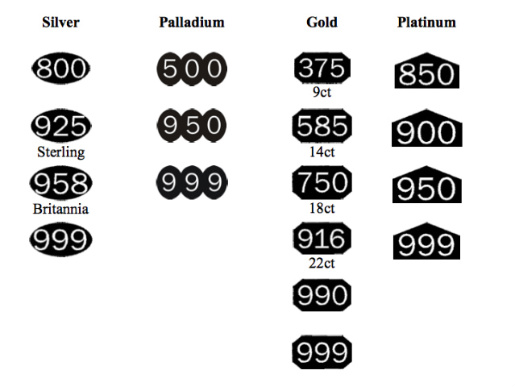 The date letter changes yearly on the 1st of January. It indicates the year in which the item was hallmarked. Below is a small selection of past and current date letter marks:

Whenever you buy jewellery or silverware in the UK always ask the question 'is it hallmarked?' Remember the hallmark is your guarantee – and in the UK it's the law!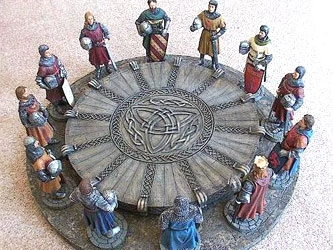 Steve is the Sales & Business Development Manager
The Goldsmiths' Company
ASSAY OFFICE LONDON
T: 0207 606 8971
D: 0207 367 9008
F: 0207 814 9353
steve.collinsATassayofficelondon.co.uk


Return to the top of Hallmarking in Great Britain
Return to Antique Jewelry Investor Home Page