Antique Indian Jewelry Information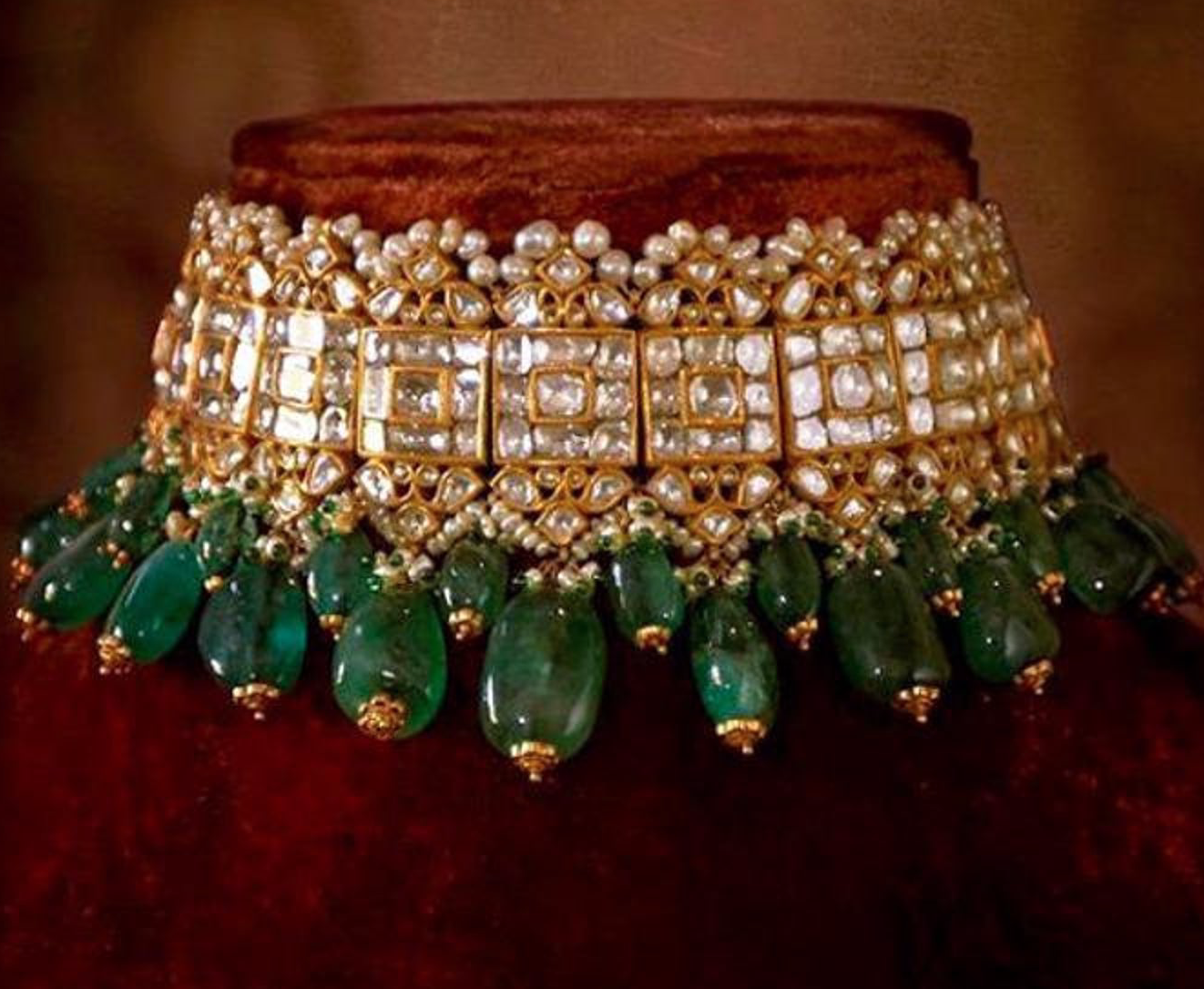 Indian Kundan Jewerly

Indian marriages are considered a bit "scrappy" without Antique Indian Jewelry or India Gold Jewelry for the bride. No Indian bridal ensemble is considered complete without a lavish inclusion of Kundan Jewelry.
With approximately 10 million weddings a year taking place in India, wedding-related physical gold investment is big business. Jewelry retailers and gold dealers both agree, Gold in India and Antique Indian Jewelry is glittering. 
The Indus Valley civilization is one of the oldest in the world, going back to ancient India, at least 5,000 years. Aryan tribes from the northwest invaded about 1500 B.C: their merger with the earlier inhabitants created the classical Indian culture and classical Kundan Jewelry.   Authentic Kundan Jewelry is renowned for its flawless finishing and age-old crafting techniques which makes Kundan Jewelry high-end classical Jewelry and a good investment too. Popular actresses like Aishwarya Rai, Shilpa Shetty, and Kareena Kapoor wore designer Kundan Jewelry on their wedding days.
Besides weddings in India, Kundan Jewerly is worn at any social gathering, celebration or religious ceremonies. Millions of women purchase Kundan Jewelry to complement their Indian attires and some even wear them with contemporary, western outfits as a style statement.
While Indian Jewelry craftspeople experient with different gemstones, the most common gemstones appearing  in Kundan Jewelry are diamond, sapphire, emerald, garnet, topaz, ruby, agate, jade, crystal, amethyst, and Pearls. 
Investing in Indian Jewelrey  is not only about investing in the gold  but also in precious gemstones and Diamonds. The Diamond Facts Can Be Found Here....
 India astrology, also supports India Jewelry and though it might seem strange to Westerners,  gemstones are actually  "prescribed" to ward off planetary afflictions in a birth chart. Gemstone Jewelry in India is chosen to match the qualities of the person.
Pink gemstones, for example, will boost the wearer's luck and prosperity. This list of pink gemstones includes the rare Argyle Pink Diamonds of Australia! The Argyle mine is expected to close in 2020. Yes, we would all hope to match our birth charts and personal qualities and be prescribed an Argyle pink diamond ;-0
For a complete list of gemstones click Here...
In the old days in India, wearing a ring on the pinky finger, set with a robins egg blue turquoise from the turquoise mines in Persia, and looking at the stone after seeing the new moon, was believed to bring great wealth to the owner.
Antique Indian Jewelry in the Gold Prohibition
In the sixties, the Indian government prohibited people from buying gold bars and coins, which resulted in the "death" of the official gold market, resulting in a huge black market for gold.
However, during post-liberalization, the ban was lifted, gold smuggling and dubious gold trading has steadily been on the decline since, gold markets are expanding once again in India and gold dealers and jewelers are smiling again. (Author Annie Zaidi). 
As the rupee becomes stronger and global prices of gold go down, Gold dealers & suppliers expect that India will increase its gold imports.
Marriage is a gold precursor in India. Gold bullion demand goes up and down in the marriage seasons. The increase in the demand for Gold Jewelry from India is because a typical Hindu wedding can involve several hundred grams of gold and silver.
Gold and pre-ban Indian Antique Gold Jewelry isn't only the premier wedding jewelry of choice for brides-to-be, but it's right there on the top of the list of some the hottest jewelry designers around the world.
International celebrities and royalty also enjoy wearing gold jewelry from India. Indie jewelers are among the finest gold experts in the world, having the largest gold market for physical gold jewelry.
Names like Jeniffer Lopez, Princess Diana, Goldie Hawn, Sally Field, Hillary Clinton, Chelsey Clinton, Elizabeth Hurley, Anna Kournikova, Madonna, Sharon Stone, and Jemima Khan have adorned themselves with Indian Gold Jewelry at high profile Hollywood fashion and social events.
Top Gemological institutes in the world are also taking notice.
Jaipur, in India, holds some of the finest collections of traditional Indian Diamond Jewelry in the world and the International Colored Gemstone Association (ICG) has made available by way of an exhibition that features 100 pieces of traditional Antique Indian Diamond Jewelry, that was on display at the Harry Oppenheimer Diamond Museum in Ramat Gan, diamond capital, in Israel.
Jewelry Extraordinaire is an enormous collection of Jewelry acquired by the Kasliwal family, owners of Jaipur's renowned Gem Palace store.
The precious stones and Natural Pearls in one of the most astonishing  Famous Collections - The Magnificent Jewels of the Maharajas of India were even associated with psychic and physical influences of the planets.
The Mogul styles can be identified in many of the Indian pieces, light and refined in Rajasthan and heavier and more showy in southern India.
In Indian society, gold jewelry and especially, Antique Indian Jewelry is regarded as a good investment which not only feels incredibly surreal to wear but  an appreciating hard asset, plus a source of security for the bride in times of need.
And the craftsmanship and elaborate gold work that features in Antique Indian Jewelry is incomparable. Famous for its rich designs that add a touch of royalty to whosoever chooses to invest in these priceless premier gold treasures from southeast Asia.
Throughout the last 4,000 years, gold jewelry has played an important role in Indian culture. Antique gold ornaments come in all different styles, depicting one's culture and tradition. The gold Jewelry, for example, popular in one state, will be a completely different style in another and is symbolic of this fascinating old and rich culture.
Gold ornaments such as the traditional antique gold "Maang tika" of North India is most desirable while the gold "Puchhootal" formed in gold and set with gemstones, is one of the most popular and sought after hair jewelry in Tamil Nadu.
"Dauni" is available in attractive gold designs and also set with diamonds, while gold "Jadai Nagam" is popular in Tamil Nadu, Manglore and even in North India.
The Gold Antique Indian ear jewelry like antique gold "Jhumkaas" is influenced by South India while "Kanpata" which is combination of filigree and gold piercing work are the premier gold pieces of West Bengal.
Among all the Antique Indian Jewelry, "Nath" jewels are considered to play the most important role in religious and cultural events.
The Indian gold nose-ring continues to fascinate jewelry aficionados far and wide. The traditional gold nose ring is an item of Jewelry no self-respecting  Indian Jewelry collector would do without.
In Himachal Bulak traditions are very important, while South Indians prefer "Mukkuththi" style gold jewelry.
Fancy the artistic flair of Rajasthani jewelry, renowned for their fabulous jewels and ancient gold-work techniques?
Dip into "Hasli" then, a simple necklace having Rajasthani arty flair while the gold "Kasu Malai" a necklace of coins, popular with the women of Tamil Nadu, will make you feel like you're the favorite in a harem.
Antique Indian Jewelry such as gold "bazu bands" are traditional yet trendy jewelry and currently very in-fashion.
"Hyderabadi Bazuband " has always been on the top of the famous people list among woman, while the hinged arm bands, worn in pairs, have their origins in Ancient Egyptian Jewelry creations.
Antique Indian Gold Kara, bangles and bracelets from North India are symbolic of the region's art and culture.
Incredible India provides inspiration for the exotic style that we can't help notice in beautiful Antique Indian Jewelry. Indian Antique Gold Jewelry style features is often a Jewelry designer's benchmark and we are talking about some of the world's hottest Jewelry designers past and present. 
You may have seen these amazing jewels being worn by the leading Indian actresses in Hindi Bollywood movies.
Famous actresses who appreciate gold India Jewelry, both, on and off-stage, include leading ladies, Kareena Kapoor, Preity Zinta, Aishwarya Rai, Rani Mukherjee, Kajol, Sushmita Sen, Lara Dutta, Priyanka Chopra, Neha Dhupiya, Madhuri Dixit, Karishma Kapoor, Ameesha Patel, Raveena Tandon, Amrita Rao, Rekha, to name a few.
Fine Antique Indian Jewelry is investment Jewelry and the preference of the world's hottest Jewelry designers, and worn by members of the British royal family and celebrities.
Have You Seen the Jewel-of-the-Month Yet?
Reference:
https://jewellerista.com/complete-guide-to-kundan-jewellery/


Return to the top of Antique Indian Jewelry
Return to Antique Jewelry Investor Home Page