Argyle Pink Diamonds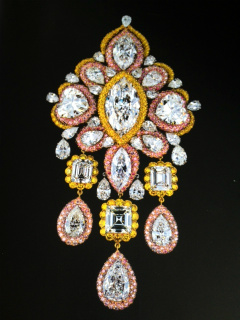 Argyle Pink Diamond Flower Pendant by Graff
All the first Argyle Pink Diamonds were purchased by Laurence Graff when Pink Diamonds were first discovered in Australia and set in the Pendant above which was presented to the Sultan of Brunei who accepted the Pendant in less than 2 minutes! 
Two of earth's most precious natural commodities are Rare Argyle Pink Diamonds and  Australian South Sea Pearls; and as luck would  have it, (I'm an Aussie) both of these gems call Australia home. Did I forget to mention Australian Gem Opal?
When Australian Pink Diamonds were  discovered in Australia, did they give the diamondaires  something to nacre about! This over-the-top rock  turned the diamond world upside-down; the color of this diamond was PINK!
Just ask  East End Londoner, Laurence Graff, what he thinks of pink diamonds, no stranger to the Diamond world is Mr Graff.   When he caught sight of them, it was love at first sight, no gemstone could look so pretty as this and yet  have all the strength of diamond. This diamond pink was irresistible.  
Laurence Graff bought up all of the first pinks discovered from the  Argyle diamond mine in Australia!  It was unheard of at the time. "Far too adventurous"  murmured some of the professionals in the business.  But  Graff didn't listen to the  opinions of others and bought all those first Argyle pink diamonds, worth an estimated $3.5 million in under two minutes!
He then designed the pink coloured diamonds  into a Pendant and presented it to the Sultan of Brunei.  When Laurence Graff asked the Sultan of Brunei what he thought of the Tremblant Flower Pendant (photo top of this page) with all those first pink diamonds he'd  purchased from the Argyle mine, Graff was all out of  pinks in less than 2 minutes! As it turned out, the Sultan Of Brunei fell in love with the pink diamonds too,  and just like Graff, it  took the Sultan less than two minutes to purchase the Tremblant Flower pendant.  There's that 5 second rule again!
Argyle Pink Diamond 
Color Chart
Argyle Pink Diamond Color Grading Chart
There so many colors and tints that can present in this colored diamond that will take the price up or down, it's  difficult to creat a comprehensive pink color grading chart. See more pink diamond color grades Here
If you are looking  for diamond facts, Discover Rare Facts About White Diamonds Here...
Argyle Diamond Mine
The Argyle Diamond mine in Australia had been the world's leading volume producer of diamonds since 1986 when the operation in the remote Kimberley region of Western Australia went into full swing.

Among the mine's vast production is a small quantity of unrivaled intensely colored pink diamonds, from sparkling "light rose" to full-bodied "purple-reds" and numbering only in the thousands of carats, thus enhancing the rarity value.

In the List of Gemstones, Australia's Pink Diamonds are believed to have been created through structural pressures exerted on carbon molecules, during diamond formation up to three billion years ago! It has to be said, that Pink diamonds have also been found in India, Brazil, and Africa.
However, the Australian pink diamond is recovered in a wider range of shades and polished in a wider range of sizes and shapes. The price of pink diamonds is dictated by the intensity of colour. Significant pink diamonds are sold with certification from the leading diamond grading authorities.
The Australian Argyle pinks are processed in Perth, Western Australia. The work involved in the cutting and polishing is so delicate and exacting that eventually, the true artisan can tell by rolling the stone in their fingers whether or not the gem is perfectly round.
According to Gemstone Meanings & Folklore, it makes no difference if the stone is  pink or white: a diamond means the same across the color spectrum  - Innocence and Honesty. The beauty and the attraction of  Argyle pink diamonds are immediately evident. Just ask Lawrence Graff and the Sultan of Brunei! It's easy to see why these pink coloured diamonds, that call Australia home, have become the  gem collector's prize.  
Argyle pink diamonds are available only from fine jewelers.
Advertise Your Gemstone Jewelry - Details Here...
Color Grading Chart - Photo Courtesy: https://www.argylediamondinvestments.com.au/pink-diamonds
Return to the top of Argyle Pink Diamonds
Return to Antique Jewelry Investor Home Page