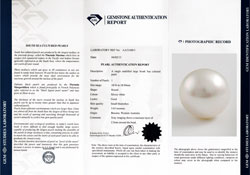 Australian South Sea Pearl Gem Report
Sink this Australian South Sea Pearl into your pocket because your are Never going to find another pearl like this Australian white cultured pearl anywhere in the world.
The Color of Money is White, Round, Grade A, Good Lustre, and a diameter of, wait for this... 18.93 to 18.99 millimetres! The pearl was chosen by my client's grandfather, a pearl boat contractor and professional skin diver, at the top-end of Australia, around ten years ago, from the pearl farm owner's personal collection. Only VIP's and Friends get to have first pick of the harvest!  The sea-waters off the remote northern coast of Australia, from which this Saltwater Cultured Pearl was harvested, is teeming with life. 
A few mm bigger is considered priceless. The largest quality south sea pearl in the world is 22 mm. Many people, including the owner says, that with our Ocean beds getting battered, a large pearl of this size & quality, will probably never be found again.
Australian South Sea Pearl 18.93 mm
Australia is the main producer of White South Sea Pearls, with an average diameter of 12-14 mm.
This South Sea Queen of Pearls, is the rarest of the rare — with a large, extraordinarily large diameter of 18.93 mm; a rarity even for a South Sea Pearl. Queen of gems and the gems of queens!
Not only is the gem's size astonishing even by South Sea Pearl standards, but the pearl has also been classified as A-Grade that is the top South Sea Pearl grading. Only 5-10 per cent of South Sea Pearls harvested will be classified as A-Grade pearls while 50% will be classified as C - or commercial grade pearls. 
This pearl is perfectly round and smooth and its  incomparable white silvery color and size awakens the memory of the noble cue sports. Good cue-action required here, in the current financial crack-up, when trading in pearls makes more sense than trading currencies.
Get behind the cue and line this pearl up on the bed; register your interest now by filling in the inquiry form below, because the chance of you ever pocketing an Australian South Sea Pearl of this colour, size and quality again are one in a million!