Antique Jewelry Repair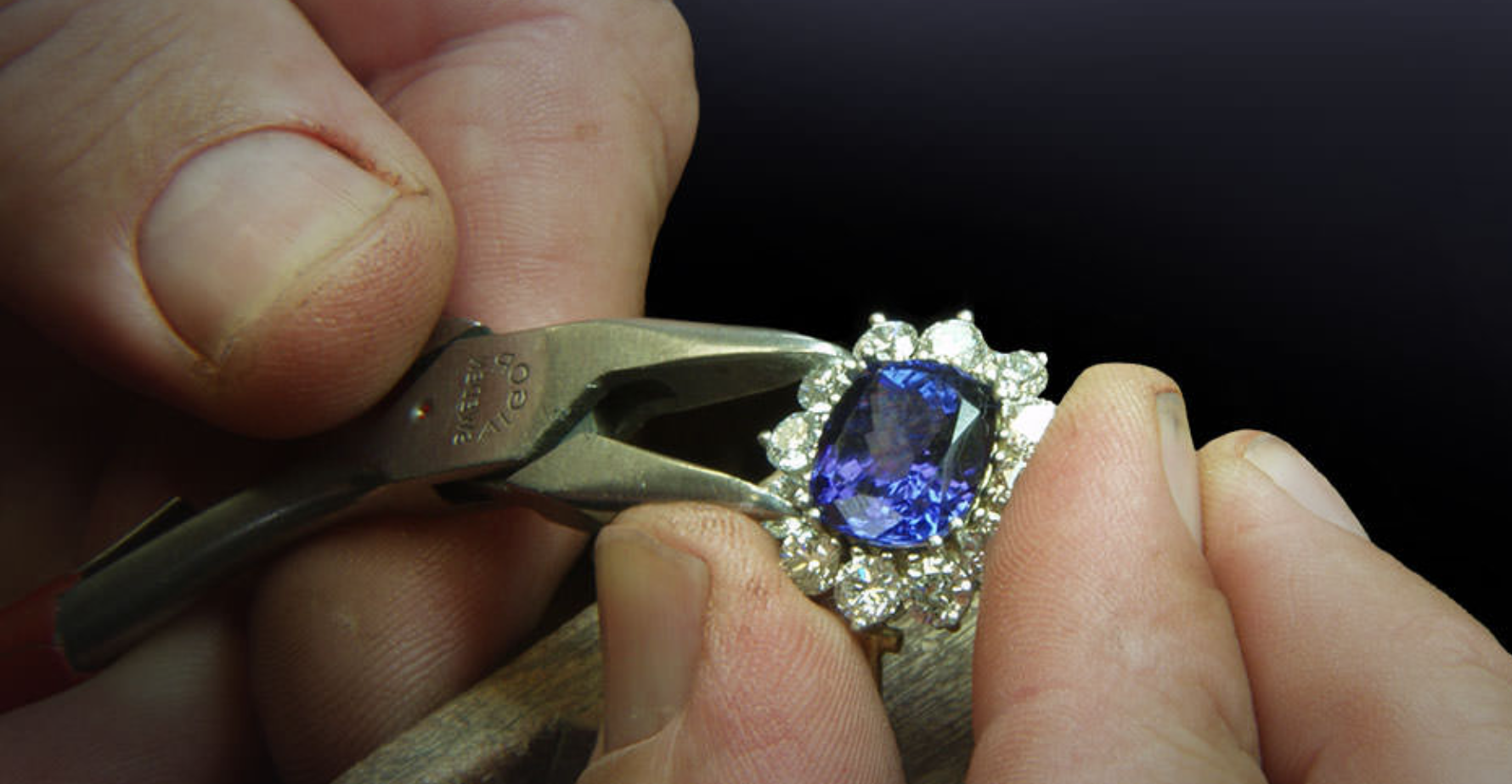 Jewelry Repair Can Save The Life of An Antique Heirloom
Photo Credit: www.jewelrydesigns.com
The rock may look solid but is the Antique Jewelry beyond Jewelry repair? This is an important point to to consider before you press - Buy Now. 
The art of knowing when to decline an item that's beyond Jewelry repair depends on several  things, and one of the most important, is your ability to detect any significant repairs, and then knowing the effect these repairs will have on the jewelry's market value.
When it comes  to repairing jewelry, the one thing that can be said  is that precious metal will fatigue or erode over time. "Erosion" takes place when precious metals rub against equal or harder surfaces. Constant contact with counter tops, stone, or even other jewelry will slowly wear away gold or platinum settings, weakening hinges, joints, prongs and clasps.

"Metal fatigue" takes place when gold or platinum is stressed by constant knocking or bending. Just  imagine a coat hanger being bent back and forth several times until it breaks.  You get the picture. The impact of hitting a ring on a doorknob, or the constant depression of your bracelets spring clasp or latch, slowly contributes to fatigue.
Once metal fatigue or erosion occurs, latches, clasps, prongs and links are prone to breaking, and our jewelry experts will prescribe the recommended procedures necessary to repair such damaged items.
Many  Jewellery repairs are extremely well executed  by reputable jewellers experienced in handling Antique Jewelry and have  saved the life of the jewel for the enjoyment of future generations, while other fast fix jewelry repairs are well...not so good, to put it mildly.  
Antique Jewelry Repair Tips
Examine the piece with your 

Jewelers Loupe

.





Inspect for seams and solder joins which appear as a different color to the main material.





Examine the back of the jewelry as well as the front.





If you find a seam it will indicate that the piece has been previously repaired or had a previous life as part of a larger work.





Examine the clasps on the back of brooches, pin brooches and bracelets. Are they working? Damaged? Been repaired?





Different styles of clasps indicate different age dates determined by the design and technique that were being used at the time. For instance, the "trombone-style" Clasp that you can just make out, on the back of this beautiful old mine cut diamond brooch, sent in by a 

visitor on Antique Jewelry Investor

 dates to the turn of the century.





Buying over the internet, while it has its' own set of distinct advantages, demands new standards of identification  and examination tools. This applies just as much to 

Cultured Pearls

, where it's extremely difficult to trust the validity of the photograph.





Scrutinize all the photos from the front and sides. I use a magnifying glass to examine photographs when buying jewelry on-line, with loupe magnification of 15x.





The jeweler's loupe 10x is a basic, practical tool and perfectly satisfactory to examine jewelry including antique diamonds. Appraisers and gemologists use this type of loupe to identify and grade gemstones. 

See the List of Gemstones...





Make sure the jeweler's loupe has a 10x fully corrected lens. A fully corrected lens means it will magnify the item 10 times and is fully corrected for depth distortion and color perception.





You Don't Know How To Use A Jewelers Loupe But Wish You Could...





If you are buying online and there isn't a photo of the back of the jewelry, contact the seller and ask if they wouldn't mind uploading another photograph of the back of the jewelry. Most dealers won't mind and if they do, shop elsewhere.




The great appeal of Antique jewelry is often the patina, especially I find with Antique & Vintage Silver items, which only age can impart. A certain amount of wear is quite acceptable for Antique & Vintage Jewelry;  it's even desirable.



Learn how to recognize antique diamonds by the cut of the diamond and how to grade a diamond's color and clarity.   Read 

 the Facts about Diamonds





Consider 

designing your engagement ring

 from heirloom jewelry, using the Antique Diamonds or the antique ring setting itself.





Check to determine how much wearing down of the metal on the back of the 

Antique Wedding Rings

.





Finally, if you have jewelry and you consider the repairs and/or the damage is less than acceptable, ask your local jeweler that you can trust for their opinion before you

sell it for the scrap value.





Today's Gold Prices can be found in the 

Jewelry Resources





Rhinestone Costume Jewelry

 repair is a specialized area.





To locate a jeweler experienced in repairing Antique jewelry, one of the simplest ways is by  

contacting  us

as we have a worldwide database of

reputable jewelers

  experienced in Antique & Vintage Jewelry.  




Reference:
https://jewelrydesigns.com/jewelry/jewelry-repair/
Photo Credit: https://jewelrydesigns.com
Bell, J., How to be a Jewelry Detective, A.D. Publishing, Kansas, 2002.
Jeanenne Bell's Book is Available from the Antique Jewelry Investor Library.
Photo courtesy of: 
http://www.gasparjewelersinc.com
Have you Seen the Jewel-of-the-Month Yet?

Return to the top of Jewelry Repair
Return to How to Invest Money
Return to Antique Jewelry Investor Home Page