Any Info On Silver Ring Please?
by Halie
(Abbotsford, Canada)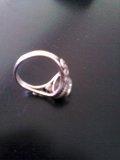 What is the item?


Silver amethyst ring
Can you please provide all background information?
Bought by a child at a church charity sale for 50 cents
What are the markings?
It has 925 with a circle underneath. The circle has two lines coming off the circle
Where are the markings?
Inside the ring stamped in a tiny square.