Could these gold cufflinks be Tiffany?
by Mary J. Armstrong
(East of Cleveland, OH)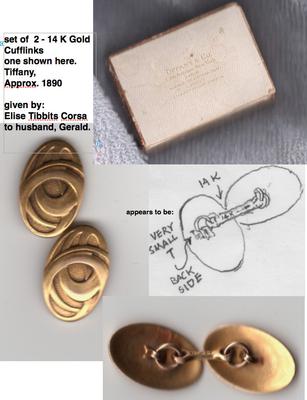 gold cufflinks, tiffany box, sketch
Years ago my husband inherited a pair of gold cufflinks. He was told they were by Tiffany and are in a Tiffany box. Supposedly around 1890 as an Elise Tiffany Corsa had them made for her husband, George. They are 14k gold, which is marked on them. However finding a Tiffany sig. is difficult though on one there does appear to be a small T. Does anyone know if these are truly Tiffany? Could some jewelry by Tiffany been specially made or designed? My photos are not up close or sharp.