Cultured Pearls with "Spun Satin" Orient
by Vanessa
(USA)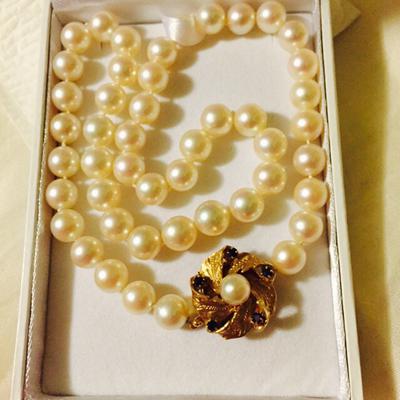 Pearls under incandescent light
I recently acquired a vintage cultured pearl necklace, but I can not identify the hallmark. The clasp of the necklace is a botanical motif with a pearl in center surrounded by leaves and five sapphires. The tongue of the clasp is stamped 14k on one side and has a tiny hallmark stamped on the other side in the shape of a horizontal diamond with the letters "BDE" inside.


However the letters are slightly scratched so they may be something else. There are 47 pearls on the strand approximately 7.5 mm. The pearls are gorgeous and to my untrained eye their luster is excellent.
They are creamy white with generous pink and green tones, and some of them almost have a depth to them which I can only describe as spun satin (is that what they call orient?).
I know they are not Mikimoto but they look vintage to me & I am so curious about their history and also value (should I decide to insure them).
Click here to read or post comments