Custom-Made Fancy Coloured Diamond Engagement Ring Set
by Yvonne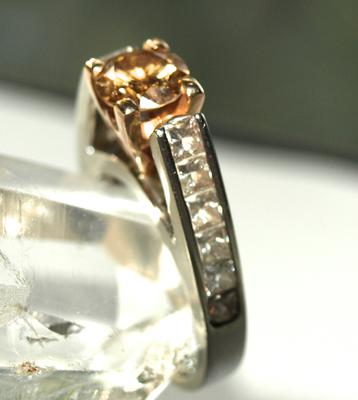 Custome Made Fancy Colored Wedding Ring Set
Advertise on the Jewelry Exchange Here...



Stunning custom-made wedding ring set. The colour of this Natural gem diamond is AMAZING.

The colour description on the diamond colour certificate from Antwerp Diamond High Council which comes with this engagement ring set says:

"INTENSE Yellowish Brown Natural Fancy Colour". Photos of this diamond do not do justice.



This truly original one only matching wedding and engagement ring has a valuation (2009) of $23, 550. 00 CDN (included).

The diamond has been graded in Antwerp - diamond capital of the world.
Grading certificate and valuation included.

Comprised of the following:

One claw set (14kt rose gold) round brilliant diamond 6.64 - 6.59x3.84mm exact weight is 1.00ct. The diamond has been weighed and graded before setting by HRD (C1760). This diamond has a yellowish tint. There are sixteen chanel set princess cut diamonds measuring 2.80 x 2.50 x 1.88mm (depth est.) approximate total weight of the stones = 1.60ct.

Would like to sell for $12,000 -If you are interested please contact:

yvonne(AT)antique-jewelry-investor(DOT)com

or reply to this ad. Thanks for your interest :-)
Click here to read or post comments
Join in and write your own page! It's easy to do. How? Simply click here to return to The Jewelry Exchange Advertising Classifieds Form.