Date of ring 1855 or 1931? H.A query on gold ring
by Jan
(Sydney, Australia)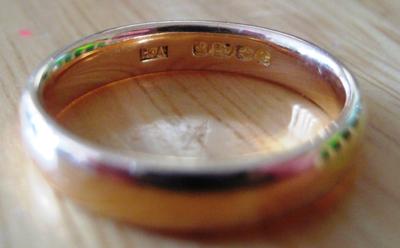 cleaned hallmarks -Is ring 1855 or 1931? H.A query
What is the item? a 22ct gold wedding ring (about 6.2g) with a coppery-yellow tinge


Can you please provide all background information?
purchased online from an antique dealer in England recently. No further background available from seller (I've asked). he is confident about the hallmarks as being 1931 and Atkin Bros and authenic 22ct solid gold (due to the hallmarks).
What are the markings?
Query on ring hallmarks H.A and G year mark, also on colour of 22ct gold?
(This ring was sold to me as a rose gold ring , Birmingham, 1931, Atkin Bros (H.A) )
I found the hallmarks contained mud or some filler? On cleaning (my son used degreaser?), what appeared to be only the right side of a crown IS a full crown.
He has taken a new photo with the cleaned hallmarks.
The G appears to me to be the 1855. It is different to the 1931 in shape and in background shape.
Seller says its 1931. What do you think?
We think the makers mark is possibly Henry Aston from this link http://www.silvermakersmarks.co.uk/Makers/Birmingham-H.html
as it looks the same BUT this link says he started in 1862, and the ring was likely hallmarked in 1855.
Details H.A with a dot in middle height of letters and well spaced in an exact rectangle
However- there is a discrepancy :
The Birmingham assay office does not have Henry Aston listed and 1855 is earlier than 1862. (so something is not correct here?)
The 1931 Atkin Bros stamp has the dot aligned at the bottom, as well as closer spaced H.A and a different shaped background.
I purchased an 18ct gold opal 1849 Birmingham ring also
from a different seller.
It has the same crown mark, same anchor mark and the same background to the year stamp as this ring
Are the background shapes on the stamps important on gold or more so on silver?
-----------------------------
Colour of ring? QUERY
This ring appears different from the 22ct yellow gold I have seen in other rings (see photo of the 2 wedding rings side by side which are both 22ct gold)
I would think that, as gold sovereigns are gold and copper? ( i.e. crown gold made of 22ct gold with the rest copper think)
then this ring, If solid 22ct gold and not coated, would have to be at least as yellow as a sovereign?
I will have to try to find somewhere with a gold sovereign to colour compare perhaps?
I don't know but we suspect due to the colour for some reason this ring has been coated with a gold-copper colour/ alloy? To give it a more copper-yellow appearance?
The hallmarks do appear to perhaps be a lighter shade (after the dark brown mud/filler) was cleaned out than the (possible) coating on the ring.
It has been suggested the the ring would oxidize more than the hallmarks when they are dirt filled, but this doesnt make much sense as copper oxidised would go more green more not more reddish maybe?
Any thoughts on colour anyone? It could be a usual colour of a 22ct gold or the usual colour of a soverign that is 22ct gold?
-
It is not the typical modern rose gold or the rose gold of my great grandparents rings ca 1900-1925, which was a beautiful rich, smooth honey-rose colour