Gold Scarab Hallmarks
by Keith
(Fort Worth, TX)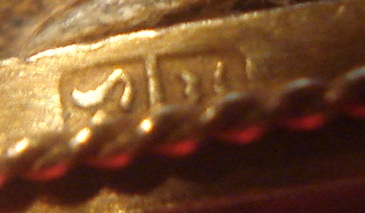 Hallmarks
What is the item?


Scarab Pendant
Can you please provide all background information?
Believed to have been purchased sometime in the early 20th century. It is 14KT gold. Not sure of what the carving is made out of.
What are the markings?
36 (maybe) and what looks like a stretched S.
Where are the markings?
The side
Any help on who made it, when, where and what material was used. If possible for insurance purposes it's value. Thank you!
Click here to read or post comments