Gold signage ring: B.K & Co - 18 in a shield?
by Chris
(Sydney Australia )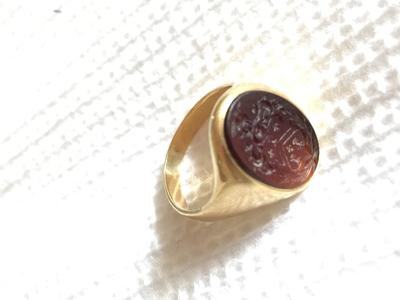 Howe family crest
Hi, I'm hoping to track down any information (date, maker name , etc) about a gold signet / seal ring that I inherited. My family tree runs back to Massachusetts, USA. The red agnate intaglio face shows a version of the Howe family crest which originates from that area (the crest is the same as the one described by the American poet Henry Longfellow in his 'Tales of a Wayside Inn' ).


There are no English hallmarks so I am assuming it was made in America. The 18 in a shield I assume means 18 karat gold. I have looked through some reference books for American makers marks and cannot find any link to a "B.K & co". There are no other marks. I'd love to know its age in particular. Any help would be greatefully received!
Thanks!
Click here to read or post comments