Having trouble identifying pearl type & makers mark
by Anne
(Atlanta, GA USA)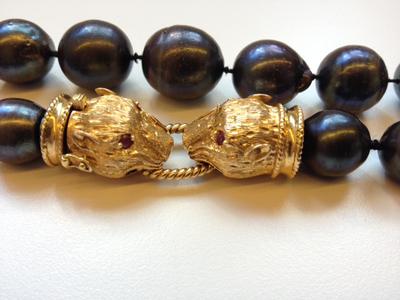 Clasp
Hello,


I purchased these pearls on ebay and I am trying to find out more information on them. They supposedly were purchased 20 years ago at the Alice Tully estate sale in NYC (part of Ms Tully's estate was auctioned off via Christie's and she was an opera singer as well as a Corning Glass heiress). I know the pearls do not appear to be great quality, but is possible that they could be natural pearls? I tried to perform the blink test and I think they passed. The pearls do not seem to be well matched in terms of shape, size, or luster. The sizes range from 12mm to 15mm.
The clasp is what interests me the most. I would also like to know if you recognize the maker of the clasp as well if you give an approximation of its age. It is marked 14KP, 585, and "J". The pearls came in an old Harry Winston box.
Any help would be greatly appreciated!
Thanks!
Click here to read or post comments