Is This Pendant Silver or White Gold?
by sue
(syracuse, new york USA)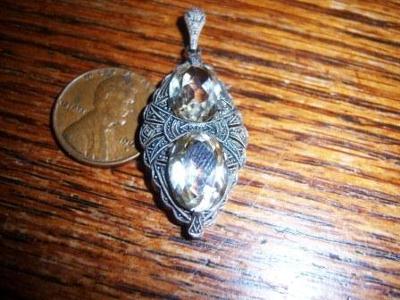 What is the item?


pendant with intricate design with two pale yellow stones
Can you please provide all background information?
i don't have anything. someone asked me to sell it for her but i don't know how to describe it for the listing.
What are the markings?
there is a number 8 and i can make out a 3 but the last number is impossible to decipher. normally i'd think it was silver but it looks too nice for silver and i think both silver and gold have 833 fineness. then again, if it was gold it would be 20k and soft. big question mark!
Where are the markings?
the reverse side of the pendant at the very top.
Click here to read or post comments