Korean Hallmark
by Daryl
(tacoma, wa)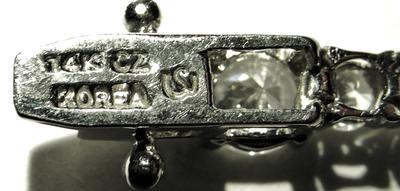 close up of the back of the clasp
What is the item?


The item is a 14k cz tennis bracelet
Can you please provide all background information?
My mother had this in her jewelry box mixed in with a bunch of their family jewelry. Her side of the family claims it was her mothers, and thus they are entitled to it. I'm trying to date it to see if it would have been bought in the 70s or 80s.
What are the markings?
14k cz Korea
Where are the markings?
The markings are located on the bottom side of the clasp.