Lucite Square Layered Bangle an Ring Set Stripes Lavender An Purple Mod Retro 1960's Modern
by Barbara Sims
(Downey, California )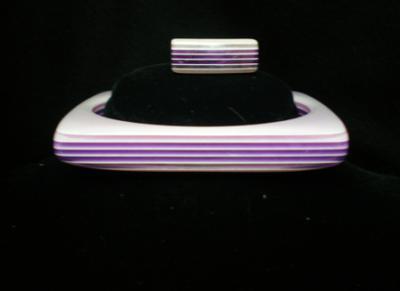 Cost = $37.00 per set.


Extremely rare to find a stripe bangle and matching ring. My research did find a couple so they are rare.
This is a stunning bangle & Ring.
Bangle 2 1/2" opening at the corner 1/2" thick x 1/4" wide
Ring size 4 so a great pinkie ring, top is square and rises 1/4" above you finger
A great addition to your vintage collection.
I have this set in a blue strip and red raspberry which is the same ring but a strip beaded stretch bracelet