Not a gold hallmark question, but a silver hallmark question..SILVER Bracelet
by Bonnie Boduk
(Sweikhuizen Netherlands)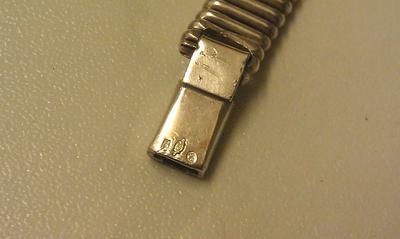 I have a .925 silver bracelet that I know was made in Arrezo. I have no idea how old the bracelet is - bought it at a flea market for one Euro.


There is a mark in the center that looks like a keyhole with the number 5 in it.
To the right of that mark is another mark with a P, a very tiny triangle, and then an S with a tiny + next to it.
The mark on the far left is just the Z1 for sterling.
THANKS
Bonnie Boduk
Click here to read or post comments