Tahitian Black Pearl 18k Ceremonial Wedding Jewelry Earrings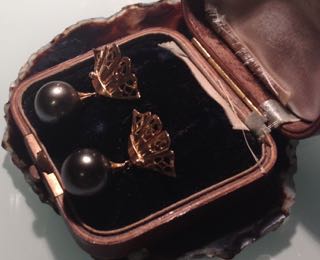 Thick Black Pearl Earrings
If you are interested in Advertising on the Jewelry Exchange Click Here...


In 1914, Mikimoto established the world's first Black South Sea pearl farm in Okinawa and turned his success from ceremonial military fans (incorporating his cultured pearls) to ceremonial fans, of a joyful nature.
(Hand fans since the 7th century, hold an important place in Japanese society and were the prized possession of warriors, actors, dancers and couples in love. The Japanese believe that the top of the fan symbolises the beginning of life and the ribs are for the roads of life going out in all directions).
The Suehiro fan is a ceremonial fan
popular for engagement and weddings, in Japan. The fan's black, lacquered ribs are finished with strong gold-colored paper leaf. "Suehiro" literally means "tips spread or open" which figuratively connotes "auspicious".
Suehiro wedding fans are considered a customary Japanese gift for couples in love and are believed to shower the recipients with a happy and rich family.
The fan atop these circa 1920s sea pearls is not black, but rich 18 ct gold but the pearls are black Tahitian. Thick with nacre because in the early days, the pearls were not harvested so quickly but given time for the nacre to build up. You can see your reflection in their mirror sheen, they must have taken years to match. They are a dark grey with a purplish undertone.
Hanging from the beautiful fan of 18kt solid yellow gold are the Black Tahitian pearls, which measure about 11.50 mm round each. This open-fan design adds the ceremonial touch to the earrings.
Overall, from the top of the fan to the bottom of the pearl, the earrings measure 1.165 inches long, or 29.55 mm. Made for pieced ears, each earring weighs about 3.70g.
They are in Excellent Condition.
A Black Pearl treasure! You will not be disappointed.
$3750 USD
Please reply to this ad if interested in buying or would like to ask a question.