Vintage Selro Selini Bracelet
by Barbara Sims
(Seattle Wa 98116)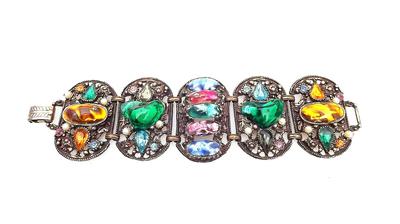 SPECTACULAR RARE GLASS STONES BRACELET BY SELRO SELINI


1940'S UNSIGNED
A lot of pieces of his jewelry was unsigned
Fabulous jewelry gift for her!
This is a very rare find, just purchased yesterday. In beautiful condition
Stunning piece has gorgeous foil glass and poured glass art glass stones. Marbled and swirled colors in the art glass These are large, free form shaped, in jewel tone colors some of which are clear pale blue, light purple, rose, green With faceted pear and round rhinestones and glass pearls, all of which are set in antique gold plated metal
There are 5 huge links.
The center link is different in shape from the others. It measures 2 1/8" long x approx. 1 1/8" across. It has 5 foiled art glass stones set down the length of the center of it.
The other 4 measure 2 1/8" long x 1 1/4" across.
These are set with more foil stones, amoeba shaped art glass stones, rhinestones and glass and pearls.
The glass stones are breathtaking feature jewel tone colors which include green, aqua blue, smokey quartz, light golden topaz, french blue, pink, light purple and rose. The metal is ornate and the whole piece is very dimensional, heavy and very high quality
This bracelet is a eye stopper for sure, a conversation piece, pass it down, an heirloom for years to come.
Measuring 7 3/8" long x 2 1/4" wide a must have for your collection
Be sure to enlarge the pictures, I take a lot to make them as perfect as I can. There is not anything about this bracelet that is a problem no issues to report at all.
A little history about the designer from Google search
Costume jewelry aficionados have long admired the mysterious faces of Selro jewelry, but little was known about the company itself or the man behind the manufacture of
this incredible jewelry.
Paul Selenger
Paul Selenger was born in Odessa, Russia in 1911. In 1927, he immigrated to the United States with his mother Rose and sister Fannie. The family settled in Brooklyn, New York and by 1930 Selenger and his sister had jobs as salespeople in a novelty store. Selenger became a U.S. citizen in 1942 and served his new country as a Staff Sergeant in North Africa during World War II.
Early in his costume jewelry career, he worked for H. Pomerantz & Co. in New York. At some point in the late 1940s, Selenger opened his own firm, Selro, which was named for his mother Rose. His sister Fanny also helped him in the business. Selenger's niece Marian Faytell says that her uncle had his own factory in New York City from the 1950s to the early 1960s. The factory was located in the area of the West 30s in Manhattan and Selenger employed a model maker and others who did 'bench' work. Faytell believes that later on he may have also had another manufacturing location in Providence, RI. Faytell remembers him traveling weekly to Providence.
PLEASE READ BELOW!
. If you purchase more than one item of the same weight they ship free. SHIP WITHIN 24 HOURS, GET IT FAST. I'm here for any questions. All offers are considered.
Please look at all pictures this is the item you will receive. If any imperfection are present I will have a pic of it. The hand I use in some pictures is life size.
Questions? I'm here!
I do Combine shipping, MUST asked before you pay or I CAN NOT combine your shipping.
Thank you very much for stopping by my little Ebay Store BarbsBagsnBling ;)
GOOD PRE-OWNED CONDITION - SOME MAY HAVE LIGHT SIGNS OF AGE AND OR WEAR, SOLD AS IS - AS PRE-OWNED FASHION JEWELRY