Curious About A Unique Ring......
by Cheryl
(Connecticut)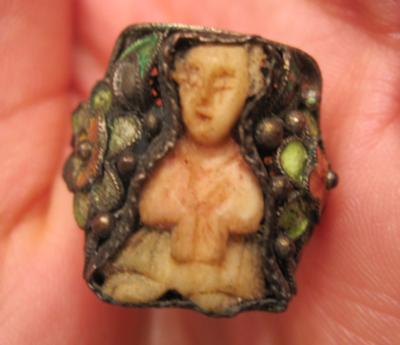 This ring came from the estate of one of our neighbors. She worked in the New York fashion industry drawing the women in magazines and catalogs and loved collecting unique items. I have no clue or know anything about it, maybe it's not even that old?


I'm just so confused by it. The flowers have an effervescent shine to them, there's tiny black seed beads or seed pearls (faux?). The figureine could be resin, bone, a stone, it's hard to tell. The ring smells like brass but I could be wrong. Now that I've sounded like an idiot, any information about the ring would be very much appriciated.
Click here to read or post comments
Join in and write your own page! It's easy to do. How? Simply click here to return to General Estate Jewelry Question?.