General Antique Jewelry Question?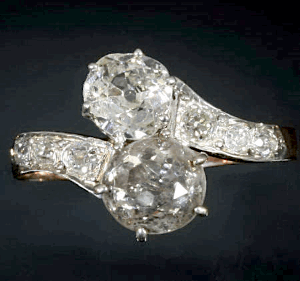 Antique Diamond Engagement Ring
Do you have an Antique Jewelry General Question?  Then ask your question below on this page.
 The price is  $7.99 US  per  question.  If you would also like  to  know the value of your Jewelry, fill in the Expert  Appraisal  form which can be found Here...
If you feel like replying to any of the questions,  add your comment in the comments box below.  
If your Jewelry question is  specifically about Pearls, Antique Cameo  or Antique Gold Hallmarks then ask your question in the most appropriate  forum  at  Antique Jewelry Investor Help Central... 
Ready to get started?
Return to the top of Antique Jewelry General Question
Return to Antique Jewelry Help Central
Return to Antique Jewelry Investor Home Page