Hallmarks Revisited No.2
by Jan
(Seattle, WA)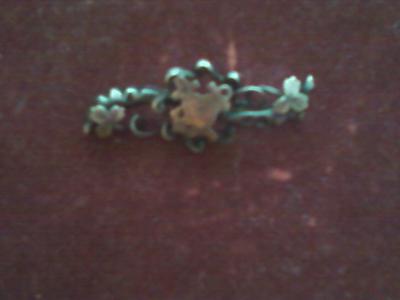 Yes, photography isn't quite my forte but I did try again! And I realized I really didn't describe the pin which may have been of assistance, possibly?


It is silver. The patina is so rich and where there is great detail, even richer. This designer seemed to emphasize details; in the fine grape vine type spiral there are little notches, as if to give a branch character and as there are only two spirals, each one connects to a single copper (?) 3 leaf. One on the left and one on the right of the pin. They come from the center of the pin. Each leaf has very fine tap lines in the copper to emphasize veins of the leaf.
In the center of the pin there is a copper heart with an anchor and a cross, the pattern is from a single piece of copper. It is so delicately done, the tapping on the heart into a heart design gives the appearance of the heart being in front of the cross and the anchor. The cross and anchor have as well tapping designs to add character. Even the outside edge of the heart is delicately notched giving it an appearance of a frill. It seems to me, a lot of love and devotion went into this! I even thought a woman jeweler could have done it!
Of the places you named, those are the ones I thought fit, especially Chester..with the exception of Scotland, something about this pin didn't quite meet that criteria. But then, I'm lousy with a phone camera too. ;-)
The C hook is in tact, the pin is missing now though originally it was attached. It was dull at the tip, some what thick. The mechanism for the pin is interesting. It would take a very fine tool to tap out the rod.
If I could make out the symbol next to the initial M I might have a chance and, IF I can find another method of photo for identification, may I send that on? I'll send what I have now, but certainly, I couldn't obtain the hallmarks which would be helpful...but perhaps with another camera.
Thank you so much, you're site is delectable!