Help to identify the symbol on this gold mesh bracelet center and possible value
by Joyce
(Ohio)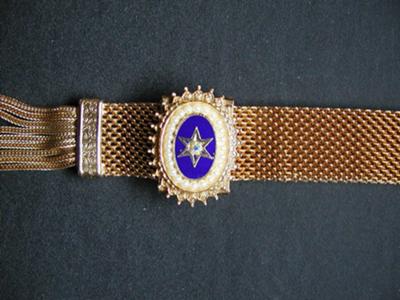 This was found in my mother's jewelry from 40-50 years ago.


The center piece opens to adjust the length of the gold mesh bracelet. There is a small stone in the center of a star surrounded with tiny white beads. This center piece is attached to a gold oval with tiny crowns.
I would like to know if the center symbol has any significance ? Do you have any idea what the bracelet might be worth?
Click here to read or post comments
Join in and write your own page! It's easy to do. How? Simply click here to return to General Estate Jewelry Question?.