An Older German Brooch - Abtei Maria Laach
by Ed
(Bay City Michigan)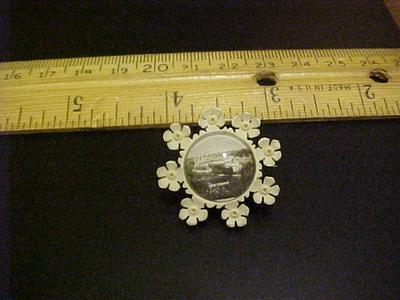 I have been searching the web for some time now trying to find some information on a brooch I picked up at an estate sale.


In searching I found your site and it sounds as though you may be the closest I can find relating to what I am looking for.
The pin appears to be an older German brooch, possibly pre WW II. It appears to be a picture of an Abbey and the printing, once you can make it out states "Abtei Maria Laach" which I believe translates loosely into Abby Maria Laach which is a Benedictine Abbey in North Western Germany.
I have no idea of the composition of this pin. It appears to be some type of celluloid or stone? What was the purpose of this brooch? Was it a souvenir pin? Can you give me any idea as to value?
Any information you could give me or perhaps refer me to another site would be greatly appreciated.
Thank you for your time and consideration Ed