Vintage or Antique Costume Jewelry Question?
Do you have a Vintage or Antique Costume Jewelry question?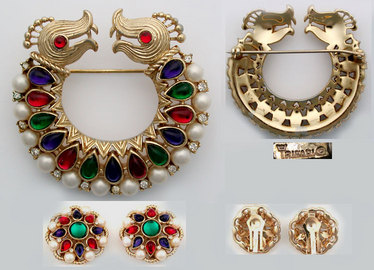 Vintage Costume Jewelry by Trifari
One could be forgiven for thinking of Costume Jewelry as less than 100 years of age,  however, Costume Jewelry crafted for everyday folks has been around  for hundreds of years. 
The popularity of affordable jewelry that simulated high-end jewely goes back to the 17th century, when Europe's demand for precious gemstones, in particular diamonds, resulted in jewelers working like galley slaves in an effort to make affordable substitutes, particularly in glass and Rhinestones.  In 1724, Georges Frederic Strass, best known for inventing the Rhinestone,  Strass, Diamonte,  depending on the language of the country. Strass found these crystals  along the Rhine River in Austria.  
 No matter whether your question is simple or a triton, take your jewelry to the next level.  Type your Costume Jewelry Question in the form below.  The cost is $7.99 US.  
Vintage Costume jewelry and Antique Costume Jewelry are just so collectible today. Whether you are interested in collecting Vintage Costume Jewelry for the pleasure of wearing it, or as an investment, or both, this style of jewelry has achieved celebrity status and celebrities know it!
Questions on Trifari, Weiss, Elsa Schiaparelli Costume Jewelry manufacturers or maybe you just need some help identifying the item.  For general information on Costume Jewelry Marks, Makers & Dates and Resources Check Out Our Collection Of Jewelry Resources...
All questions published in this forum will be answered as soon as possible.   If you  need to know how much the item is  worth,  an Expert Jewelry Appraisal is recommended.
Your Antique Jewelry Investor question is Not related to Vintage or Antique Costume Jewelry? Find the right  forum at at Help Central.
Costume Jewelry Questions
Click below to see questions from other visitors to this page...

Return to the top of Vintage or Antique Costume Jewelry Question
Return to Antique Jewelry Investor Questions - Help Central
Return to Antique Jewelry Investor Home Page