Renato Balestra 14k chain Necklace with a Porsche Key
by Phoenix Fallon
(Phoenix, Arizona)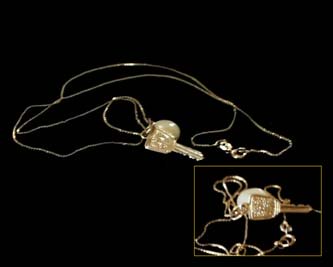 The balestra porsche necklace (sign with lower case b)
I was given this necklace about 15 years ago by a friend when I had bought a porsche. I just took it out to sell it on ebay. When I inspected it..


I was surprised that besides being solid 14k gold, It has markings and was numbered. Stamped on the chain clasp on one side it is stamped Italy and 14K; one the other side it has a stylized word "balestra" and the logo (looks like bow and arrow) (downloaded the marque from another piece of jewerlry I found on the internet). I have not found a picture of the signature I can show you. I don't have a great camera. It also is stamped with the number 685.
I found a cheap copy of this necklace on the internet. I want to know how rare and valuable it is.
Click here to read or post comments
Return to Vintage or Antique Costume Jewelry Question?.