Antique "Limoges" Necklace | What does it mean?
by Norris
(Sarasota)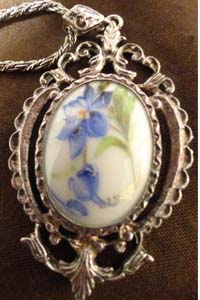 I found an antique necklace for 25 dollars at good will it is very beautiful and is a painting on a porcelein with sterling silver frame and chain.


On the chain it says it is 925 and has italy written on it, same with clasp. On the pendent the letters "Limoges" is written in gold color. And on the back it has the 925 and in little font says 1764AL (what does that mean?) and also how much is this worth ?
Return to Vintage or Antique Costume Jewelry Question?.