Unusual Old Necklace
by Ray
(Palm Coast Florida USA)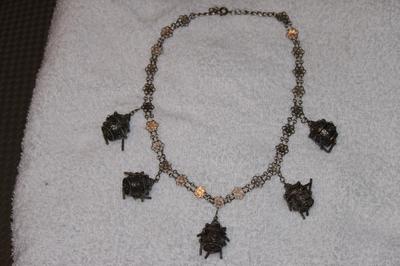 I picked up this necklace at a yard sale because I found it to be interesting. The pendants or whatever they are unscrew and separate into halves. There are what look like little springs hanging off the sides. All the links are soldered and it looks to be very well made. I don't think the clasp is original because it looks to be gold tone. I do not see any markings on the clasp but it is soldered on. The total weight is 42 grams. I really do not know what it is made from, but I do not think it is silver.


I have spent a tremendous amount of time researching this and have found nothing out about it I was hoping you could tell me something about it.
Thanks
Ray
Click here to read or post comments
Return to Vintage or Antique Costume Jewelry Question?.