Did 80s YSL rive gauche necklaces come with hangtags?
by Inge
(Texas)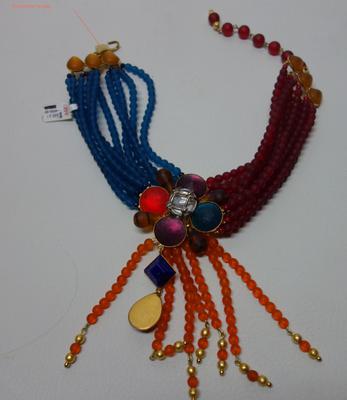 Recently bought a necklace that was advertised as rare and authentic YSL rive gauche, from the late 80s, purchased at Saks Fifth Avenue. When the necklace arrived I was surprised to see a hangtag. I have several other rive gauche pieces. On each one, a cuff bracelet, a pair of fish earrings, there is a tag affixed to either the back of the earrings or the inside of the cuff bracelet. Looked at the necklace I just purchased and determined that on the back of the gold-tone metal there would have been enough space to permanently attach a rive gauche plaque.


I love YSL jewelry and have both YSL and YSL rive gauche; former are mostly older and many of them have hang-tags but I have never come across a rive gauche necklace with a hangtag when there was space for a permanent plaque.
Have gone to the Berge Foundation's site but there is no provision for help with this matter. SL (formerly YSL) referred me to the Foundation.
Can you help shed light on this?
Question: Is this necklace a genuine YSL rive gauche?
I should add that the metal encasing the "stones" feels a bit rough in the back. That's surprising as it could snag silk. None of my other YSL pieces do that.