Invest Vintage & Antique Costume Jewelry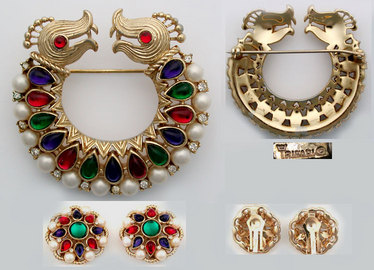 Vintage & Antique Costume Jewelry is a great place to invest in Jewelry  because this area has a shipload of bargains just waiting for the savvy Costume Jewelry Investor to spot.  
How to invest tips can be found right here on this website.   Help Central is  also a great resource to find answers to your questions.  If it's costume cleaning tips you're after, you will find Cleaning Costume Jewelry Tips Here...
 Costume jewelry was  made to imitate fine Antique Jewelry and so when it comes to investing  in Costume Jewelry, that's exactly what you're looking for - a good imitation of the original.   Jewelers in this area threw caution to the wind using their artistic license to  make innovative and large pieces owing to the lower material costs compared to the expensive precious metals and natural gemstones that were used in the making of  fine Antique Jewelry.  
 Vintage and Antique Costume Jewelry is a twentieth-century term, applied to Jewelry made (usually) from non-precious metals and materials such as imitation gemstones, and faux pearls,  in the early 1900s through to the 1960s. 
Very early Costume Jewelry dates back hundreds of years.  As the Eighteenth century got underway, a thriving Costume Jewelry trade developed in Europe. Faux Pearl Jewelry became  increasingly more popular, as a cheaper alternative to expensive  Natural Pearls.
All that glitters may not be hallmarked gold, but what a dazzling genre of Jewelry for the astute Jewelry investor to take advantage of.  Miriam Haskell Jewelry,  for example,  is extremely sought after today.
Costume Jewelry  is a huge area and you might hear it  referred to as Cocktail Jewelry, Retro Modern,  Vintage Jewelry and the People's Jewelry.   Costume Jewelry investors, wanting to hone their identification skills, can find Identifying Costume Jewelry Tips  further down on this page.
Costume Jewelry is divided into two main areas:
FAUX Bling -  dazzling fashion Costume Jewelry, including the underestimated (at time of writing) - Rhinestone Costume Jewelry 
FINE Bling -  referred to as "Designer Costume Jewelry" An example of this genre is Chanel Costume Jewelry. A lovely little area called  Antique Paste Jewelry is included in fine Costume Jewelry; a period favorite of  the Georgian era.
Notwithstanding,  Vintage Bridal Costume Jewelry and Rhinestone Costume Jewelry,  two exciting  collectible  areas.  And if you intend to celebrate this Christmas in grand style, wearing a Costume Jewelry Christmas Tree Pin could be mandatory. 
Most unsigned Costume Jewelry was never intended to be a financial investment when it was originally created. However, dealers  know that this type of Jewelry is  collectible and profitable. 
Vintage Costume Jewelry started out as more  affordable Jewelry and was  produced in large quantities for us common folks; it was the "People's Jewelry", and because the people are the many, there is no short supply of Costume Jewelry in the market.
Costume Jewelry is a descendant of Art Deco Jewelry.  It was the famous Coco Chanel  who put Costume on the map  when she exclaimed:
"Nothing looks more like a fake jewel than a beautiful jewel. Why get mesmerized by a beautiful stone? One might as well wear a cheque around one's neck."  - Coco Chanel
Madame Chanel was no shrinking violet.  Her statements, like her fashion and Chanel Costume Jewelry, reflected her dynamic personality. 
Unsigned Antique Vintage Costume Jewelry is just as collectible as signed pieces, simply because these pieces are wonderful works of art in themselves. In the land of Costume Jewelry, it's not  always necessary to have a famous name stamped on the back.
Costume Jewelry Investors can also indulge their fantasies,  as there are so many fascinating themes to choose from. Some collectors are faithful to a favorite designer, while others may stream-line their Jewelry around figural objects found in nature, such as flowers, fruit, birds, beasts and even bugs.
Investor Antique Costume Jewelry Tips
Knowing how to use a jewelers loupe will save you time and money.
Forgeries are common at the upper end of the market. Trifari's jelly belly pins and Eisenberg Originals have been widely forged and often have  fake signatures.
If you think you've become a victim of a Weiss deception read THIS.
If you're a budding collector, it will be prudent to buy pieces in the mid and lower price ranges, to avoid expensive mistakes.
"Yesterday's elegant-formal-wear-turned-dated-eyesore" is today's "must-have" accessory.
If you need any proof, of the desirability of Antique Costume Jewelry, just check out the Costume Jewelry adorning today's Hollywood celebrities and British Royalty.
Personal ornamentation comprised of non-precious materials  deserves thoughtful storage requirements in particular, unconventional and larger size pieces.
Jewelry storage, is an important decision here. Where and how to store unconventional and large pieces?
When buying, think of Antique Costume Jewelry as 'a bulkier form of Art Deco'. 
Instead of diamonds, 'rubies and sapphires' was more the go, and instead of precious metals, like silver and gold,   many Costume Jewelry designers turned to  brass and other alloys.   Celluloid, enamel, horn, paint, paper, rubber, textiles and wood were also popular.
Inside the art movements of the 1920s 'material snobbism' was tossed aside by young designers who rejected imitating expensive authentic jewelry and worked hard to make 'fake jewelry' acceptable.
Invest in Vintage Costume Jewelry in good condition and Costume Jewelry, that has the  color  red somewhere. 
Silver Costume Jewelry, (is making a big come-back and well worth investigating.
Don't be afraid to ask questions before you purchase Antique Vintage Costume Jewellery. The more you learn, the more you earn. 
If the Jewelry is signed, so much the better, it will fall into Designer Costume Jewelry category, which increases its value.
Both signed designer costume and unsigned costume jewelry are both just as collectible.
Costume may be referred to as 'Cocktail Jewelry' and  was made to show off in, to wear at the new cocktail hour,  that started  in the 1920s in Europe.
Bubbly and bold, women could dazzle away the evening with their fantastic jewels and glamorous evening wear.
Jewelry design of the 1930s was sleek, slim (1930s), architectural, and hard.
Major influences were cubism and futurism.
Early Antique Costume Jewelry  of the 1930s, will appear geometric looking, like heavier versions of Art Deco Jewelry.
Royalty no longer held such influence over women and fashion,  as much as the Hollywood movie stars,  like  Rita Hayworth and Veronica Lake.
Antique Costume Jewelry is full of life and  strength. It rise  in the 1930s and 1940s was due to women of fashion, wanting the right kind of jewels to go with that evening cocktail dress; the cocktail hour catapulted  luxurious costume jewels into fame. Fake and sumptuous, they were well made and quite pricey.
If you discover a piece of jewelry with gold work perforated with patterns, of either little hexagons (a Van Clef & Arpels speciality), or overlapping semi-circles, like slinky scales, you are looking at the typical GoldWork of the period.  
Keep your eye out for bows and knots of all descriptions, they were an essential motif, forming the main motif or tied around the center of a costume brooch, forcing simple flower-heads into splaying fan shapes each side.
Bracelets were chunky, with mechanical motifs, and some of the most beautiful were made only of gold or colored gold in angular or chevron-shaped links.
For the ultimate in luxury items at the time,  cocktail hour wristwatches or 'montres bracelets'  were in vogue. These had a flexible gold band and were set with a huge central watch face, and  gem-set around the watch face.
Cocktail wristwatches might include, square-cut rubies and sapphires  and little gems set in star settings. These innovative luxury watches were made in Switzerland, by leading watch manufacturers, Rolex, Baume-Mercier, Piaget, Patek Philippe, and Gubelin of Lucerne.
Dress clips was a 1940s phenomenon. They could be worn separately or fitted together as a brooch. No fashionable lady, of the era, would have gone without one. 
Cartoon-like animals, rigid gold figures of scarecrows, clowns, ballerinas all set with tiny colored stones gradually crept into Antique Costume Jewelry design.
Antique Costume Jewelry is  still full of life today! It's stylish and trendy Jewelry to invest,  and as fashionable today,  as it was the day it was made.
Have You Seen the Jewel-of-the-Month Yet?


Return to the top of Antique Costume Jewelry
Return to Antique Jewelry Investor Home Page