Unique Jewelry Boxes
 Affordable Storage Solution
There are times when even the traditionalists require unique jewelry boxes for unique jewelry storage requirements. And we found one great idea from Sears! 
Did you know that Her Royal Highness, Queen Elizabeth II, has so much jewelry that she has a special room to store it in which is roughly the size of an ice rink and situated 40 feet beneath Buckingham Palace.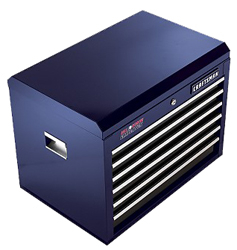 Craftsman Six Drawer Ball-Bearing Chest from Sears
That doesn't even include the British Crown Jewels which are kept in the Tower of London!
OK, so we are not British Royalty and most of us don't have jewelry enough to fill a jewelry box, let alone spread it across an ice-rink, but for the serious Antique Jewelry Investor, often the simple handcrafted wooden jewelry boxes are too small to meet their needs, and a larger, unique jewelry box is needed.
Larger pieces of jewelry, for example, rigid jewelry forms, Miriam Haskell Jewelry, suites of jewelry like parures, and in particular, rhinestone jewelry, require more space. (A "parure" is a set of jeweled ornaments decorated en suite and intended to be worn at the same time, such as necklace, bracelets, brooch, and earrings).
Jewelry in History tells us, that parures became fashionable in the second half of the 16th century and were revived again in the 19th century. Napoleon Bonaparte, in the Georgian era, was a great lover of fine jewelry and gave Empress Josephine a number of spectacular parures.
Antique jewelry parures are rare and expensive. Spectacular parures, are plentiful in the rhinestone costume jewelry and designer costume jewelry departments.
Over the course of time, members of the original suite may become separated. Rarity increases value. Collectors are often willing to pay top dollars for that missing member you just might have. 
 Large suites of jewelry and rigid jewelry forms, extra-large bracelets popular during the art deco era, ethnic silver and ivory bangles and antique tribal marriage cuffs, are examples of extreme Antique Jewelry that require extreme non-traditional jewelry box solutions as the traditional handcrafted jewelry box, the ballerina jewelry box, and wooden jewelry boxes are just not big enough. 
Alernative Large Jewelry Boxes 
To every problem, there's  a solution...    I came across a really novel alternative for a large jewelry box the other day.  An everyday alternative to a large jewelry armoire, courtesy of the hardware department at Sears. (image above on this page)
One look at the Craftsman Six Drawer Ball-Bearing Chest and I knew I had found the unique jewelry box solution I was looking for.
Then over to the Container Store for the jewelry drawer organizers and tubes of non-slip drawer liner.
Now,  large pieces of Antique Jewelry will fit comfortably inside this non-traditional jewelry box.
Plus,  the ball-bearing drawers open and shut with ease.
And another great bonus is that this jewelry box locks with a key, that you can take with you if you're traveling, and it weighs more than 100 pounds, so it would be difficult for someone to steal.
Position it inconspicuously as a side table near a reading chair in your bedroom and nobody would ever know your little 'big" secret.
Last by not least, don't forget to catalog your Jewelry. You may like to consider an inventory software system for this purpose.
Return to top of Unique Jewelry Boxes
Return to Jewelry Storage
Return to Antique Jewelry Investor Home Page