French & American Designer Costume Jewelry
Boucheron Brooch & Matching Ear Clips
Designer Costume Jewelry is not only a beautiful  jewelry  investment but  the  sustainable jewelry alternative  to brand spanking new,  fresh out of the box  manufactured jewelry. Costume Jewelry if chosen with skill and experience can fetch outrageously high prices  in today's marketplace.    
 This genre of jewelry  has been the preference of  Queens, princesses and famous Hollywood actresses for centuries and for good reason.   What jewelry today can compare to the  boldness of 1940s Designer Costume designs that originated from the major New York and Paris luxury houses,  the undisputed leaders in the world of   Antique costume jewelry?   
Designer Costume can be found amongst the finest and most famous jewelry collections in the world.  It often resides  under glass, in the most exclusive high-end jewelry stores. Designer Costume Jewelry is anything but Costume. 
Designer costume jewelry is often made on special order under a renowned Jewelry brand. You can describe a piece of Jewelry as "designer" simply from the designer's logo inscribed on it or you can Identify Costume Jewelry by the designer's signature trademarks and design preferences. 
Principal Costume Jewelry Designers
French designers and couturiers understood the allure women found in discovering a designer brand or a personal style that felt stylish yet more affordable than fine premier antique jewelry.
 The French opened the door to Designer Costume Jewelry on the continent however  the Americans produced more pieces.
In the 1940s, principal costume jewelry designer belonged to the major glamorous New York and Paris Jewel houses.
Leading Jewelry designers were:
Van Clef & Arpels
Cartier
Boucheron
(I'm particularly fond of Boucheron designer costume jewelry and have a costume designer brooch made by Marcel Boucheron, freedom of design is a feature and is typical of Boucheron, a master of detail and style. He worked for Cartier in Paris in the 1910s and '20s. Boucheron was transferred to the New York branch in the late '20s and due to the depression applied his amazing talent to costume jewelry. His pieces are marked and numbered and of the highest quality.)
Designer Costume Jewelry & The British Royal Family
To celebrate The Queen's 80th birthday, the largest ever exhibition of Her Majesty's personal jewelry was on display at the Summer Opening of Buckingham Palace (26 July – 26 September 2006)
Among the breathtaking jewels in the exhibition were a pair of Boucheron aquamarine and diamond clip-brooches given to Princess Elizabeth by her father, King George VI, for her 18th birthday.
Other personal gifts include a gold, sapphire, diamond and ruby bracelet made by Boucheron to Prince Philip's design. It was given to The Queen on their fifth wedding anniversary and incorporates the interlaced initials 'E' and 'P'.
A dazzling flower brooch by Cartier was also on display. Set with the 23.6-carats of pink diamonds and baguette diamonds, it was given to The Queen by Dr. Williamson.
Other principal designer costume jewelers include:
Chaumet
Lacloche
Mauboussin
Mellerios
Rene Boivin
The American forms like Traebert and Hoeffer, Marcus and co, John Rubel as well as individual jewelry designers like Paul Flato, and the New York branches of Paris jewel houses all turned out very glamorous creations.
Mauboussin, founded in 1827 was known for his lavish and adventurous use of precious stones.
In the 1930s, Mauboussin joined up with Traebert and Hoeffer and together produced some of the most dramatic jewels of the period. You will find these pieces stamped with the trade name 'Reflection'.
The Parisian firm of Rene Boivin, flourished in the 1930s, making a transition to softer curving draped designs with good use of sweeping gold work.
Tiger jewels was one of Boivin's specialties, particular bracelets in the form of stretching tigers.
Van Clef & Arpels Designer Costume
Van Clef & Arpels, founded in 1906, and the descendants of generations of jewelers were notable in the 1940s for their avant-garde designs.  Van Clef & Arpels were particularly famous for their invisibly set jewels and the use of star setting for small stones and  later in the same decade for their famous 'tulle' jewels.
At the Guild Hall's Summer Gala Celebrating Larry Rivers' Early Works at Mulford Farms East Hampton, NY on Friday, August 8, 2008, high society gals, Kelly Briter and Allison Mcatte were wearing, Designer Costume Jewelry by Van Clef & Arpels.
Fashion Icons, Famous Actresses and Designer Costume Jewelry
Famous actresses and fashion icons, can't get enough of Designer Costume Jewelry. With boutiques on Madison Avenue and in the Bellagio Hotel in Las Vegas, Fred Leighton offers one of the broadest selections of stylish designer vintage jewelry in the U.S. Among his stock are rarified signed Cartier Art Deco pieces and more approachable 1950's Bulgari.
Bulgari, the jewelry designer of Italy led a band of jewelers working in this glamorous cocktail style.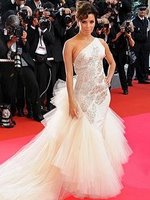 Eva Longoria Parker, (May 2008- Cannes Red Carpet) wearing a white gown and train and Van Clef & Arpels jewelry. Old-Hollywood glamorous, 20th century cocktail at its best, in a frothy tulle white Versace Atelier gown.
 Cartier's Designer Costume Jewelry in the 1940s, was strong on style and immaculately made while more unusual whimsical ideas came from Jeanne Toussaint. (Becker, V, Antique and Twentieth-century Jewellery, N.A.G. Press, London, 1987.)
Sterle, a Paris Jeweler worked with the couturier Jacques Fath in the 1950s and made costume designer jewelry in the form of diamond rose petals, arrows and feathers, wings, and bows with a huge display of gemstones either all diamonds or colored semi-precious stones in fantasy themes.
Sterle's work had the fashion design flair and the use of color and form and he created jewels in the spirit of the cocktail age.
Major costume jewelry designers included the American firm Trifari, the American designer Marcel Boucher. In France, the big three were Elsa Schiaparelli,  Christian Dior, and Chanel Costume Jewelry.
Coco Chanel successfully wrote Chanel Costume Jewelry into her own fashion philosophy.
Montres Bracelets - Ultimate Cocktail Watches
In Switzerland, major watch companies produced elegant and stylish cocktail wristwatches. The ultimate in luxury watches,  the cocktail wristwatches or 'montres bracelets' were extremely popular and worn on the wrist of fashionable ladies at the new cocktail hour.
Often they have a flexible gold band and were set with a huge central gem set surrounding the watch face. Square cut rubies and sapphires were used or the little gems-set in star settings.
These innovative luxury watches were made in Switzerland, by leading watch manufacturers, Rolex, Baume-Mercier, Piaget, Patek Philippe, and Gubelin of Lucerne.
Fashion, Fantasy and Vendura
Fulco Santostefano della Cerda, Duke of Verdura, of Sicily worked with Chanel in the 1930s. In the 40s and 50s, his jewels of gold and semi-precious stones were famous.
Even off-screen, Hollywood's stars, and jewelry aficionados, have long revered Verdura as a figure holding a special place in the rarefied world of bespoke jewelry, a reference for both opulence and creative individuality.
For most of its 70 years, the firm has operated almost like a private club, from its plush New York showroom, 12 floors above Fifth Avenue near 57th Street. Until quite recently an appointment was required.
Joan Crawford and Marlene Dietrich were both Verdura devotees, and a curb-link bracelet watch that he made for Greta Garbo was one of her lifelong treasures.
The firm still continues today (E J. Landrigan/Vendura) and attracts exclusive clientele looking for something very different and combined with fine workmanship.
Vendura's use of gold and colored stones had a huge influence on modern jewelry designs today. Jewelry designer, Vendura had a strong sense of romance, fashion and fantasy and instinctively seemed to know what made women look good. Elegant yet luxurious the jewels he created glowed with light.
The famous wide bangles that Chanel wore on each wrist, of black and white enamel and set with a Maltese crosses were designed by Fulco Santostefano Della Cerda, Duke of Vendura.
Designer Costume Jewelry, like the jewels produced by Verdura, still live on and now the families of Verdura's original devoted clients still continue to buy Verdura's originals or those made in his style and spirit.
Designer Costume Jewelry and Antique Jewelry are investment-worthy assets that you can wear and enjoy. They are anything but "Costume" and anything but "Antique".
Verdura & Cartier BIG Cats
Cartier's "GREAT CATS" was first commissioned by the Duke of Windsor for the love of Wallis Simpson.
The Big Cat was a profoundly significant symbol, for the King of England who abdicated the throne, for the love of Wallis Simpson. What is of particular interest in relation to the Wallace Simpson story in the History of Jewels is an extraordinary fact, that the Leopard head symbol, has been the London town mark for precious metals, since 1478! A  fitting symbol for a King of England.   It is believed however, to have been Verdura's idea, to create the first of the six spectacular Big Cat jewels for CARTIER. 
The first Panther jewel was a three-dimensional golden panther flecked with black enamel over a cabochon emerald of 11.74 carats. (Becker, V., Antique and Twentieth Century Jewellery, N.A.G. Press, 1987)
Since the late 19th century, the big cat jewelry has been a world-wide emblem for the femme-fatale and designer costume Jewelry would imitate the style. 
Return to the top of Designer Costume Jewelry
Return to Antique Costume Jewelry
Return to Antique Jewelry Investor Home Page