Georges Fouquet
1920s Georges Fouquet Brooch
Not many master jewelers can boast creating masterworks in two style periods. However, the brilliant French master craftsman, Georges Fouquet (1862-1957) achieved the seemingly impossible, creating sublime works of jewelry art in both the Art Nouveau and the Art Deco Periods.
Hailing from one of the great French jewelry Maisons, Fouquet,  is regarded as a master jeweler in the strictest sense, of two style periods. His father, Alphonse Fouquet, started the firm back in the 1800s, and Georges continued the firm until around the 1930s. When the crash came, the family had the foresight to close the house. And then his son, Georges, worked with him from about 1925 on and continued it.
Georges  preferred a more geometric approach than his father and belonged to the school of important designers who directly translated contemporary art in jewelry, building up designs from geometric shapes, making use of lacquer and enamels, like his father had, to achieve this. The renowned master workman of Art Nouveau jewelry, wasn't about to call it a day there. Fouquet went on to create, some of the finest Art Deco Jewelry in the History of Jewelry.
The brilliance of Fouquet is that he managed to fully adopt the new Art Deco style as it fast approached. Around the year 1922, sensing the changes, he moved with them, indeed he led them, beyond his earlier innovative ideas of floral and figurative decoration to produce, brooches, bracelets, belt clasps, pins, and pendants, with extremely stylized abstract motifs.
Replacing precious gemstones in his gemstone jewelry with  gemstones like onyx, jade, and coral, that were chosen for their strong opaque colors. He often combined texture and color with the translucency of topazes, aquamarines, crystal, and amethysts.
See other examples of Fouquet Jewelry Here...
Fouquet varied colors and textures with the use of enamel and lacquer, often drawing on other contemporary artists for fresh ideas.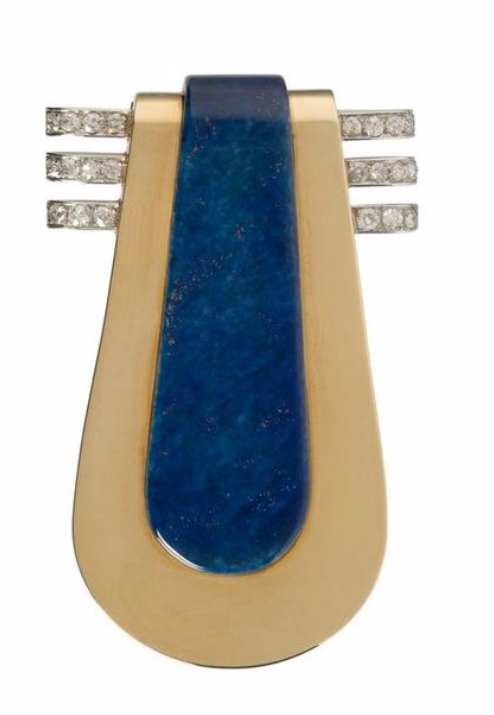 A gold laquer clip with diamond by Jean Fouquet and Louis Fertey and was presented Order of the French State at the 1937 International Exhibition of Arts and Techniques
In 1925, he represented at the International Exposition, work by his leading craftsman, Louis Fertey, along with his own designs and those of his son, Jean Fouquet, plus jewels from designs by other artists such as poster artist Adolphe Mouron, known as Cassandre. He presided over the jewelry section in 1925 at the International Exposition. In 1936, Georges Fouquet commissioned designs from the sculptor Lambert-Rucki.
Jean Fouquet, (1899-1994)
son of Georges and one of the great artist-jewelers of the Art Deco movement was never directly involved in running the Maison Fouquet. He did however design for them, and his designs created between 1925 and 1931 were among the most audacious and innovative of the period. 
Reference:
1. Becker, V., Antique and Twentieth Century Jewellery, N.A.G. Press,(2nd edition), 1980, London.
2. Roadshow Archives: http://www.pbs.org/wgbh/roadshow/archive/200403A36.html
3. GEORGES AND JEAN FOUQUET:
https://web.archive.org/web/20151224103853/http://www.primaveragallery.com/biography/fouquet-bio

Return to the top of Georges Fouquet
Return to Invest in Art Deco Jewelry
Return to Antique Jewelry Investor Home Page