Antique black onyx ring with diamond
by Heather Wilson
(Batavia, Ohio)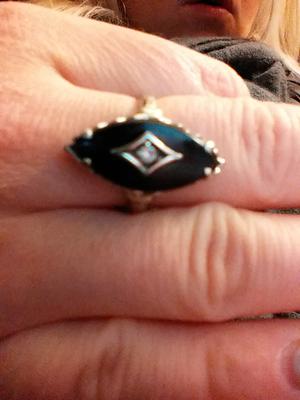 My grandmother gave me her black onyx ring but she did not remember how she acquired it. I admired it my whole life and she gifted it to me about 10 years before she passed at the age of 99. I can not find even one ring that is exactly the same. There is only one marking that I can read on the inside and it looks like a k. I wear this ring often and my grandmother wore it daily so I believe it is a quality metal, as it is in very good condition. I'm trying to find out how old it is and who made it. I had it sent to a jeweler through JCPenny to have the prongs fixed that hold the diamond and was told the diamond was not real. I did not have it fixed and would really like to have a real diamond placed instead. Any help finding this rings history is greatly appreciated!! Thanks so much!!
Click here to read or post comments
Join in and write your own page! It's easy to do. How? Simply click here to return to General Estate Jewelry Question?.