Can you help identify my 22k YG, 6 ruby, 42 diamond 1 1/2" long earrings with gold ear wires that sport an anvil (?) shape base?
by Billygreeneyes
(Upstate New York)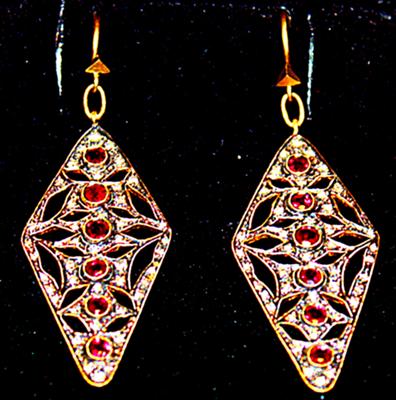 Frontal
Wow, what a name that was to type out. First of all, thank you for your help. I happen to buy an early 1900s jewelry or trinket box that either intentionally or by oversight had a pair of earrings lying flat between the board and the felt. Truly amazing that they stayed like that and was overlooked.


I was the fortunate one to receive the box at the perfect time. These earrings are absolutely beautiful and I can only believe that they were custom made for someone some time ago. The 6 Rubies that are on each earring are just a little larger than 1mm but as you can see do what they should and draw all the attention possible to the wearer.
Each one sports 42 very well placed diamonds that encompass those rubies and only add to the entire beauty of the earrings. I said that the earwire had an anvil at the base because that is what they look like to me. The hallmark on the back is square, and inside it has what appears to me to be the initials DS but the only way I could see that was to change the RGB lighting tones to reflect hotter and colder areas.
I am just not sure if it was accurate or not. Additionally there is a trademark or circa mark below the square. I will post 4 pictures and I hope you can help me identify the maker. If you need further information or different angle pictures please let me know and I will do my best to help.
Again, thank you for your help and I look forward to hearing from you... Billy