Designer/Jeweler of my Pre-owned Ring Hallmarked 14K (Heart Symbol)" & "glamour" Hallmark?
by Laura
(Baltimore, MD, USA)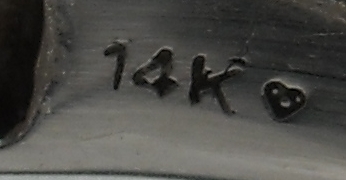 What is the item?


Vertical 3-Stone Paved Bypass 14K White Gold Diamond Ring
Can you please provide all background information?
Purchased pre-owned from pawn broker in Baltimore, MD June 2010
What are the markings?
14K (heart symbol) and "glamour" hallmark on White Gold
Where are the markings?
14K (heart symbol) inside right of setting and "glamour" inside left of setting
Click here to read or post comments