Information on my Antique Cameo on Blue Background
by Joan dennis
(Hampshire, UK)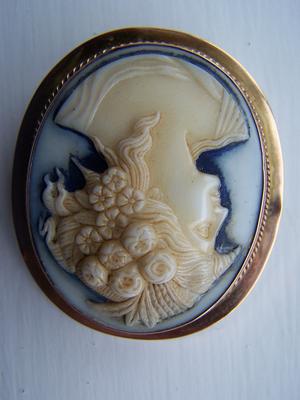 Dear Sirs - would you be able to give me any idea of the value of my cameo? I don't know how old it is but it belonged to my great grandmother and i have a picture of her holding my mother who was a baby at the time and was taken in 1913, so the cameo is at least 100 years old.


A local jeweller has told me that the mount is 9 carat gold and the cameo itself is stone. The girl is very sharply carved with a lot of detail. The cream head is shown against a pale blue background. Around the head is a dark blue "halo. This blue halo is not raised but feels slightly rough, so I am not sure how this has been achieved.
Dimensions are as follows:-
height 48mm
width40mm
depth of gold mount 5mm
overall depth of cameo 9mm
I have attached some photos. If you need any further information please ask. Any information regarding this item would be gratefully received..
Kind regards
Joan