Is this a Cartier Diamond Brooch?
by Ante'
(Phoenix, AZ)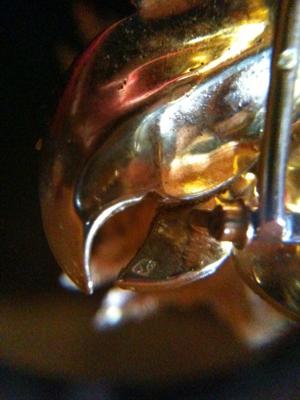 I recently took this item to the highest end jewelery store in our state. I was told this item is cartier. Before I send the item to cartier for research in the archives which is expensive I wanted a second opinion as it is not marked "cartier" The item is a gold and diamond brooch. the petals of the flower are mechanical and the diamonds are mounted on the tips of what would be the stamen. The marks are as follows 2 eagles heads, 18k, france and on another area of the piece barely visible there is a diamond makers mark. I am attaching the image. Any help whether it be age or a book to get etc. anything would help.


please flip the photo to try and figure it out. from one side it looks like a "L C" with an bird of some type. From the other it looks like "J F" with a dog LOL...the picture is through a jewelry loop at 10x through my iphone.
If you figure this out I would be sincerly appreciative.
Click here to read or post comments