LE JUGEMENT DE PARIS
by Datu Zwa
(Singapore)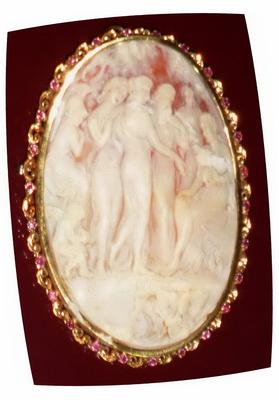 This 70 mm x 55 mm "cameo abile" brooch and pendant, of museum quality, is an antique and unique piece of northern Mediterranean origin (possibly French or Italian), which has been gracefully and delicately hand carved, circa the 17th century (or a great deal earlier), of the "flame or bull mouth helmet" of a Cassis Rufa found on the African coast and commonly called Carnelian Shell, although its 18 carat-yellow-gold frame, fabulously decorated with 26 "10 point" violet (reddish-blue) precious stones probably French oriental or true Rubies (a.k.a. Cabuncle), or Violet Sapphire (a.k.a. the Oriental Amethyst) and/or Amethyst (quartz), may have been fabricated much later, seemingly well before the turn of the past century.


It represents the traditional "Judgment of Paris", a classic mythological scene, illustrating gods and goddesses, as portrayed, by the Greek artists of the Roman Empire, and stood out during the renaissance thru nowadays, in the Greco Roman style that predominated in portraits, myths, and legends. It not only depicts the three graces, Hera, Athena and Aphrodite, and Zeus, the father-god (Jupiter) as well as Paris (the original judge of the first beauty contest) but also another divinity (demi-god) witness and a cherub angel; all seven personages are in full figure, significantly increasing the value of the article.
No digital picture can show how this cameo is incredibly well carved and finished by a great artist. It is one of the most delicate and elegant cameos you will ever see in any place, where this kind of gem is usually exhibited to the public; I was, at a time, infor-med by a cameo expert from the most reputable cameo factory located in the near vicinity of Napoli, that this magnificent work of art was, not only, of "museum quality", but it had also been, in fact, a museum piece, as evidenced by pictures shown to me, from a specialty encyclopedia.
THIS IS A TRUE MASTERPIECE, EXTREMELY RARE AND DESIRABLE