Your Favorite Antique Jewelry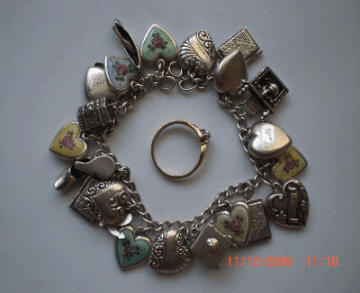 Great Grandma's Silver Charm Bracelet from Jeanette
This page is devoted to your Favorite Antique Jewelry, because  within the secret recesses of the heart, most Jewelry Collectors have one special piece of Antique Jewelry; the piece you  could not bear to part with, maybe it's  because of its beauty or sentimental value or both.
By completing the form underneath, and uploading a photo or two, you have the opportunity of taking your jewel out of seclusion and showing it off for all the world to see. It is perfectly acceptable to remain anonymous.
Your favorite piece of jewelry, may not be La Peregrina Pearl, or the Royal Treasure of Vergina on display in Oxford. And it  makes no difference! Whether  you invest antique jewelry as a result of the uncertainty over fiat money, or simply love collecting jewelry for no particularly reason at all.
Who could ever forget, the Passengers on the Titanic, and the Heart-of- the-Ocean Diamond Pendant, Rose treasured her entire lifetime!
Your favorite piece of jewelry, might be a simple antique stick pin but more evocative to you than all the Kremlin Diamonds!
Elizabeth Taylor, was one of the world's great jewelry collectors, however , it might surprise you to know, that the importance of Elizabeth Taylor's Jewelry Collection, was not determined by the value.   In Elizabeth Taylor's own words:
"I have felt that ever since Richard started giving me jewelry, there was some meaning in it for him, too. He would do it with such a twinkle and with such glee. He would say, I know I could give a $10 ornament for your hair, or a $10,000 Van Cleef & Arpels necklace to wear around your neck, and in your eyes I would see the same appreciation. I just love to watch your response, and that's why I love giving you jewelry".
Elizabeth Taylor, from "My Love Affair With Jewelry".
Tell Us! What's Your Favorite Antique Jewelry?
Take your favorite piece of Antique Jewelry out tonight! Share it for all the world to see. Your favorite jewelry will appear as a page on the web site of Antique Jewelry Investor. Just type away and tell your story in the box below. A photo says a thousand words, photos (up to 4) can also be uploaded.
What other visitors have written.....
Click below to see contributions from other visitors to this page...

Have You Seen the Jewel of the Month Yet?
Return to the top of Your Favorite Antique Jewelry
Return to Antique Jewelry Investor Home Page